Lesson 2: Creating a LinkedIn Account
/en/linkedin/what-is-linkedin/content/
Creating a LinkedIn account
Creating a LinkedIn account is simple. All you need is an email address and a few minutes of your time. Let's take a look at how it works.
Watch the video below to learn more about creating a LinkedIn account. 
Getting started
To get started, go to linkedin.com in your web browser. Enter your information, choose a password, then click the Join button. LinkedIn will guide you through the steps of adding more detail to your profile.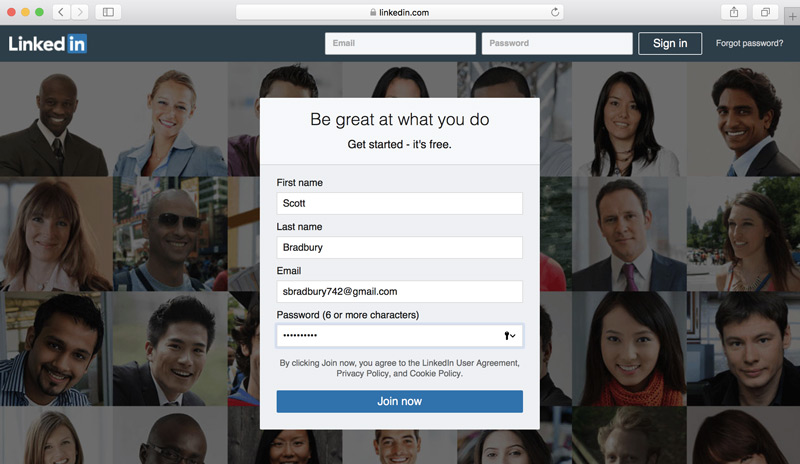 Next, you'll need to verify your email address. Go to your email inbox, look for a message from LinkedIn, then click the confirmation button or type the PIN into LinkedIn. It may also ask for your phone number to send you another verification code, so you may want to have your phone nearby just in case.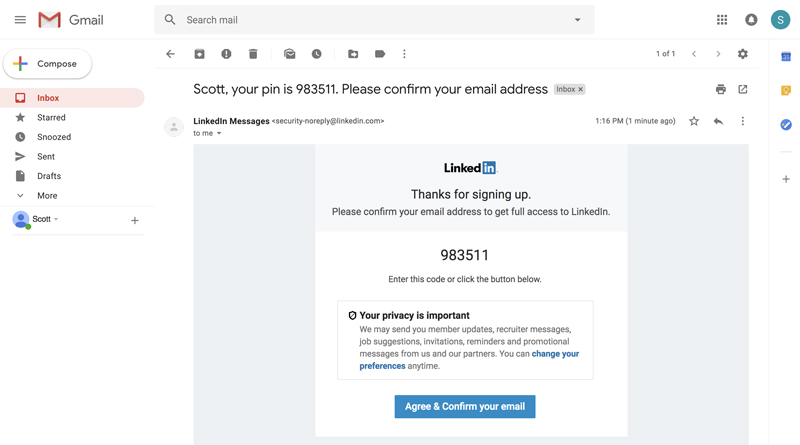 Syncing email contacts and other information
You can also choose to sync the contacts list from your email account. This will make it easier for you to find people you already know on LinkedIn, so we recommend taking eventually. However, you can always click Skip if you'd rather do this later.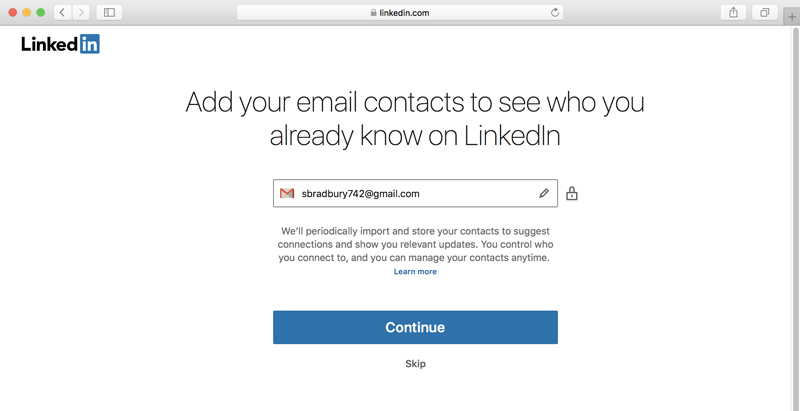 LinkedIn will also ask for information about yourself, such as your most recent job title, location, and profile photo. Like with email contacts, you can skip some of these steps if you'd rather deal with them later. However, we recommend exploring everything LinkedIn has to offer to ensure you're getting the most out of it.

Choosing a Basic or Premium Account
Finally, you may be asked to choose between a Basic account (which is free) and a Premium account (which has a monthly subscription fee). Because you're getting started with LinkedIn, we recommend using the Basic account for now. While a Premium account provides additional features like additional messaging options and job opening details, we've found that you can get quite a lot from LinkedIn using just the Basic account. You can always upgrade to a Premium account later if you want.

That's it! Your account is now set up, and you're ready to create your profile and start adding connections.

Continue
/en/linkedin/common-linkedin-terms/content/