Lesson 7: Keeping Up with LinkedIn
/en/linkedin/adding-connections-on-linkedin/content/
Keeping up with LinkedIn
Although it's focused on the professional side of life, LinkedIn is still a social network at its core. This is why it has multiple ways for you to communicate with others through messages, status updates, and groups.

Messages
You can send private messages to any of your LinkedIn connections. This is an easy way to keep up with your connections, even if they change jobs or acquire a new email address.
Watch the video below to learn more about using LinkedIn messages.

To access your messages, select the Messaging icon at the top of the screen. From here, you can read through the messages in your inbox and create a new message. LinkedIn automatically sorts your messages into categories, like connection status, InMail, and spam, although you can see all of them at the same time if you want.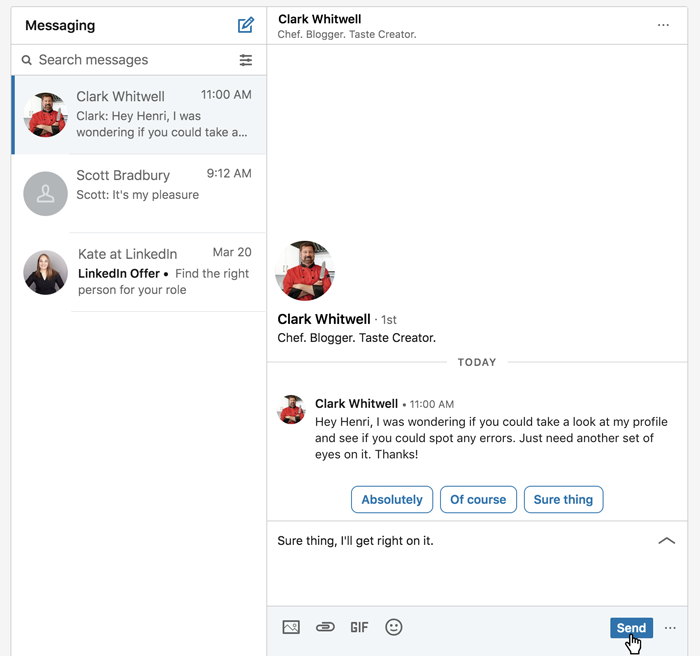 To send a message to a LinkedIn user who is not a connection, you have to send them an InMail message. However, you must have a premium account in order to use InMail, and even then you're only allowed to send a limited number of InMail messages per month.

Status updates
You can post status updates to quickly share information with your connections. For example, you might post a status update about a new job or link to an article that's relevant to your industry.
Watch the video below to learn more about posting status updates.

To post a status update, go to the homepage, then click Start a post to the right of your profile photo. You can then add text, photos, and links. You can also choose who can see your update. Once you're done, click Post.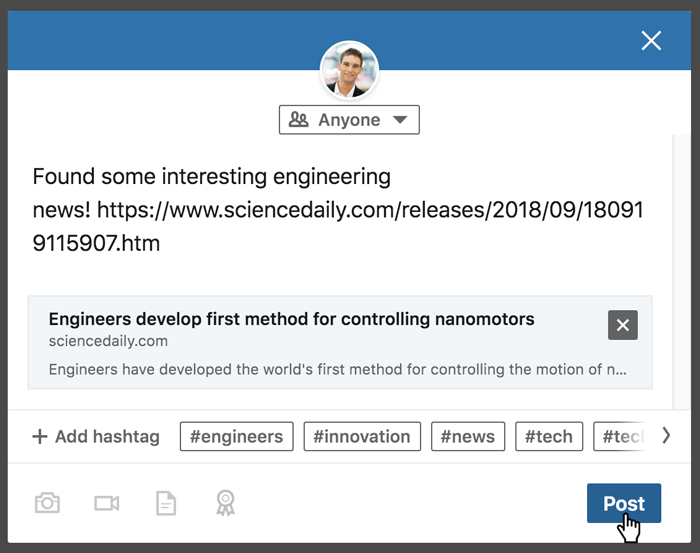 Keep in mind that you probably shouldn't share anything too personal on LinkedIn. Remember that it's not like Facebook and Twitter, so posting overly personal information might be perceived as unprofessional.

Groups
One way to make new connections with people from your industry is to join a LinkedIn group. With more than 1 million groups focusing on a wide range of topics, there's probably one that will interest you. We recommend joining groups related to your career field, as well as groups for alumni members from your college or university. They're a great way to exchange ideas, catch up on industry developments, and make new connections.
Watch the video below to learn more about joining groups on LinkedIn.

You can find groups by using the search box from any page on LinkedIn. Just type your search term, then press Enter. We recommend keeping your search fairly general at first, then narrowing it down as you learn what's available. You can also see a list of recommended groups by clicking My Network, then selecting Groups in the Recommended for You box.
If you see a group you're interested in, click the title to learn more. If you want to be a part of this group, click Request to join. The owner of the group will then decide whether to let you become part of the group. While many groups accept almost anyone who shows an interest, some may be more exclusive, depending on your professional background and connections.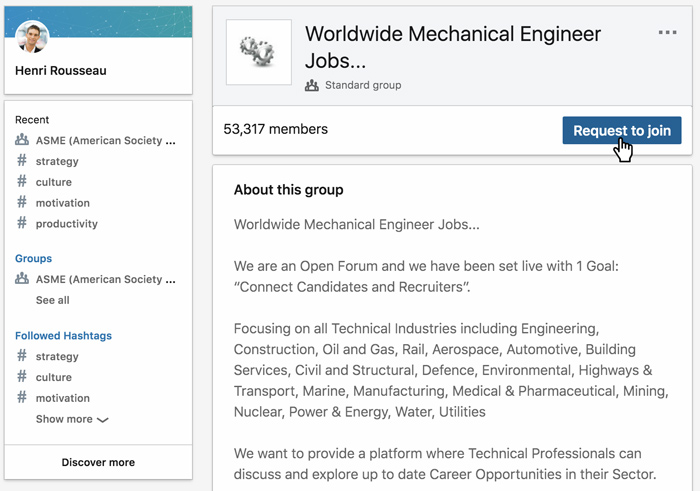 Continue
/en/linkedin/searching-for-jobs-on-linkedin/content/