Lesson 1: Getting Started with Instagram
Getting started with Instagram
Instagram is a platform designed for sharing visual content. While it started off as a photo-sharing app, now there's a vast array of different features. In this first lesson, we'll go over...
what makes Instagram unique
how to set up a basic personal profile
how to start following other users
Why Instagram?
You might be wondering: what makes Instagram special? Do I really need a separate app for posting stuff? One reason for the platform's popularity is its clean and simple layout. There isn't a whole lot of text, or links which lead to other sites. Instagram makes it easy to share content and interact with other users.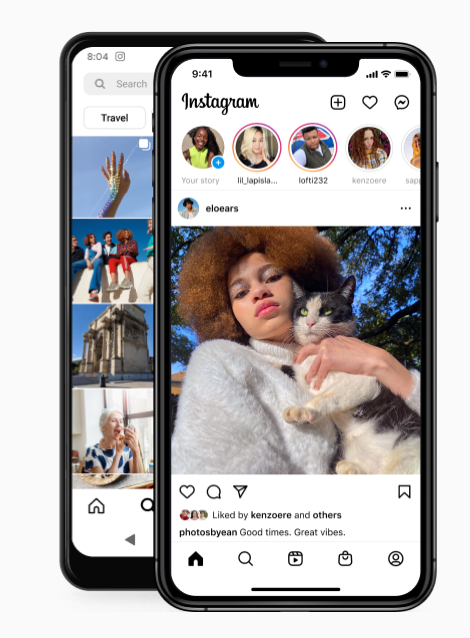 Many people turn to Instagram for motivation, lifestyle tips, and entertainment. You can follow friends you know in real life, as well as "influencers," celebrities, companies, and organizations. In a sense, you can personalize your experience by choosing who to follow.
In addition to a personal profile, you can make an Instagram account for your business or to promote your own work. It's okay for users to have multiple accounts.
Before we get started, it's important to know three things...
You must be at least 13 years old to set up an account. You can read more about their Terms of Use here.
While it used to be that you needed a smartphone to use the Instagram app, now you can access your account from your computer or laptop.
Thirdly, the platform is being tweaked all the time. Instagram's team is always adding or modifying features, so don't be surprised if you see small changes here and there.
Now let's go over the steps for setting up an account...
Setting up an account
To use Instagram on your smartphone, you'll need to download the app. Visit either Google Play (if you have an Android phone) or the App Store (if you have an iPhone) to do so.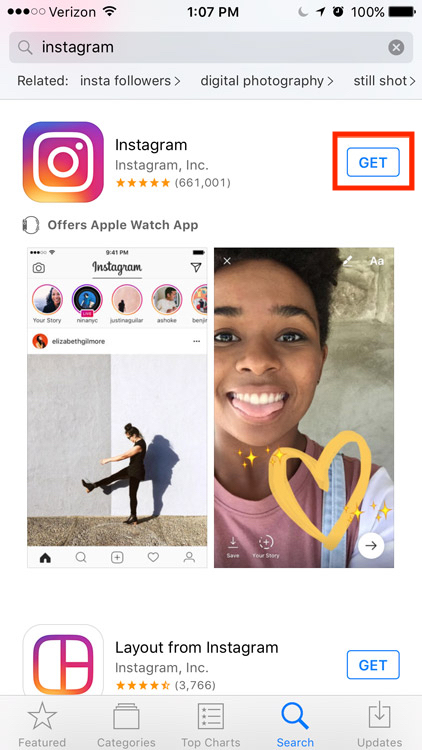 If you want to create an account from your computer/laptop, visit Instagram's

main page

. Where it says "Don't have an account? Sign up," tap

Sign up

and it will direct you through the process.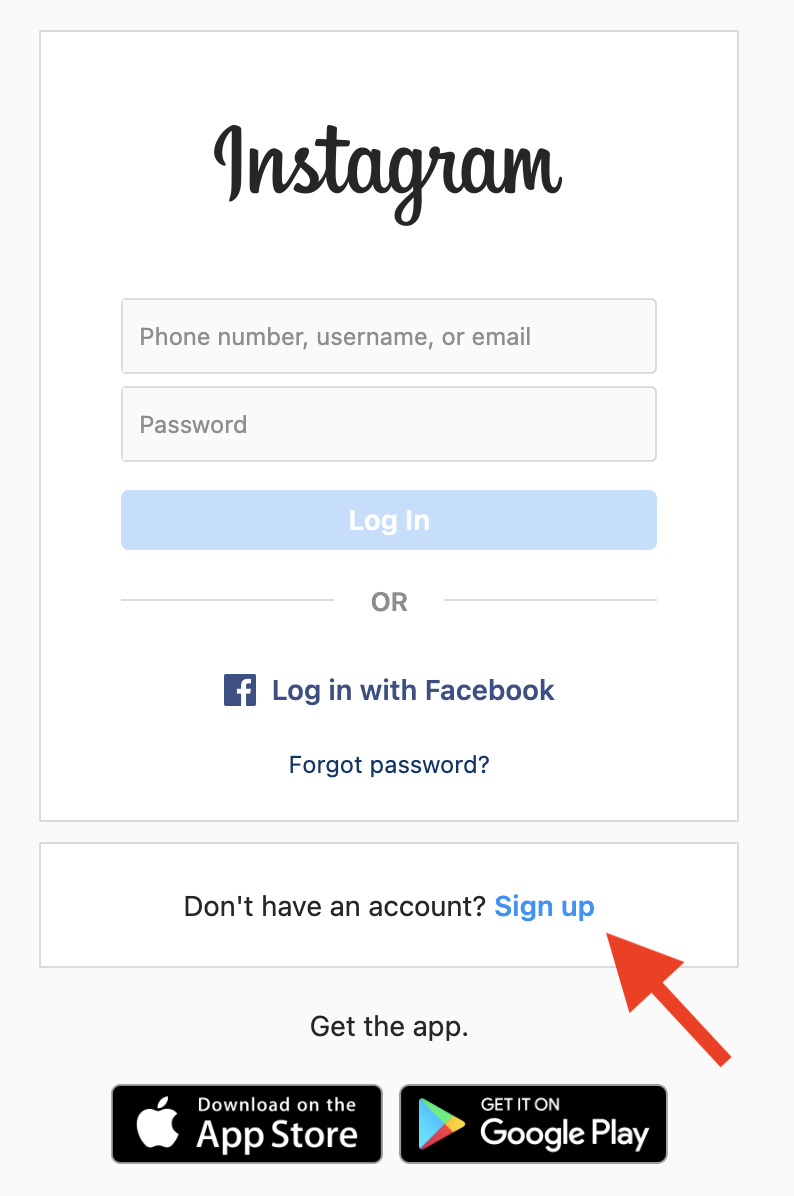 Note: While the steps below include screenshots for how to create an account from your smartphone, the user interface looks similar on a computer.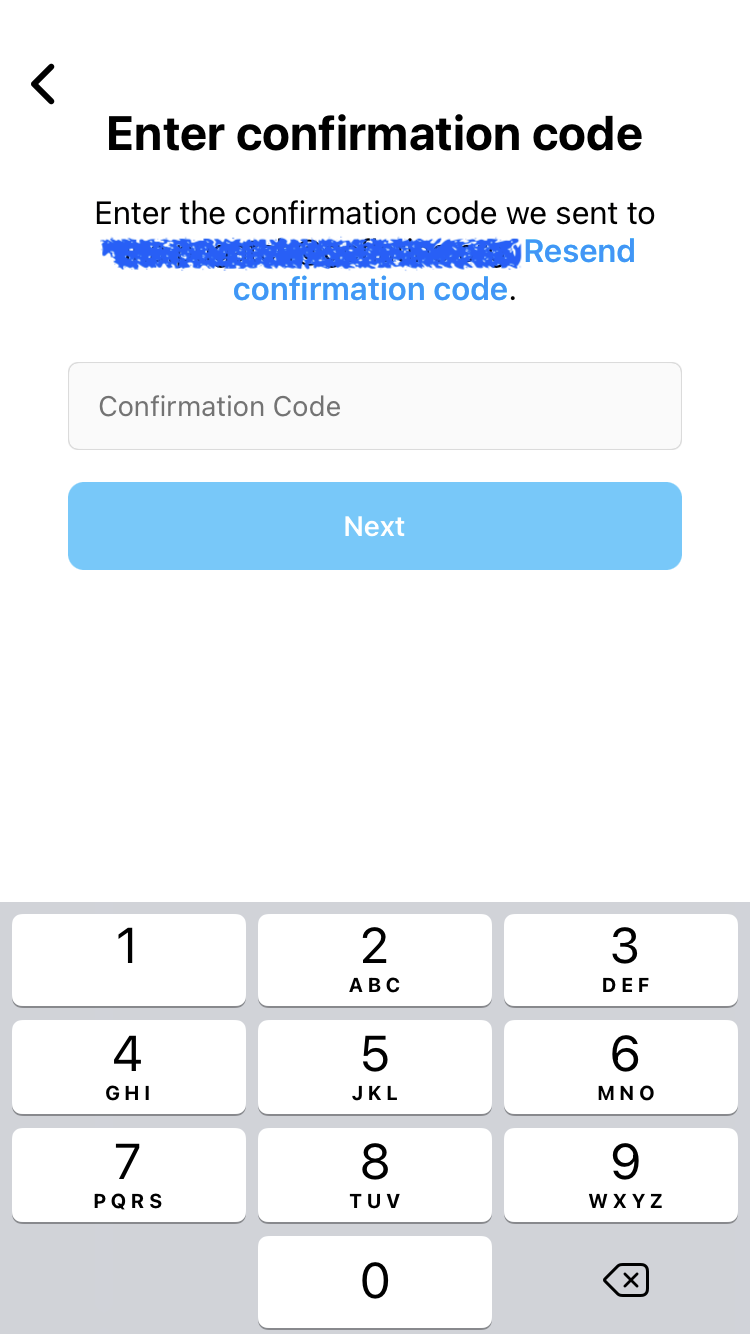 It will then ask for your

Full name

. You can change this at a later date. (This is different from your Instagram "handle" or username that everyone will see).

Afterwards, you will need to choose a Password

. Feel free to check out our lesson on

creating strong passwords

.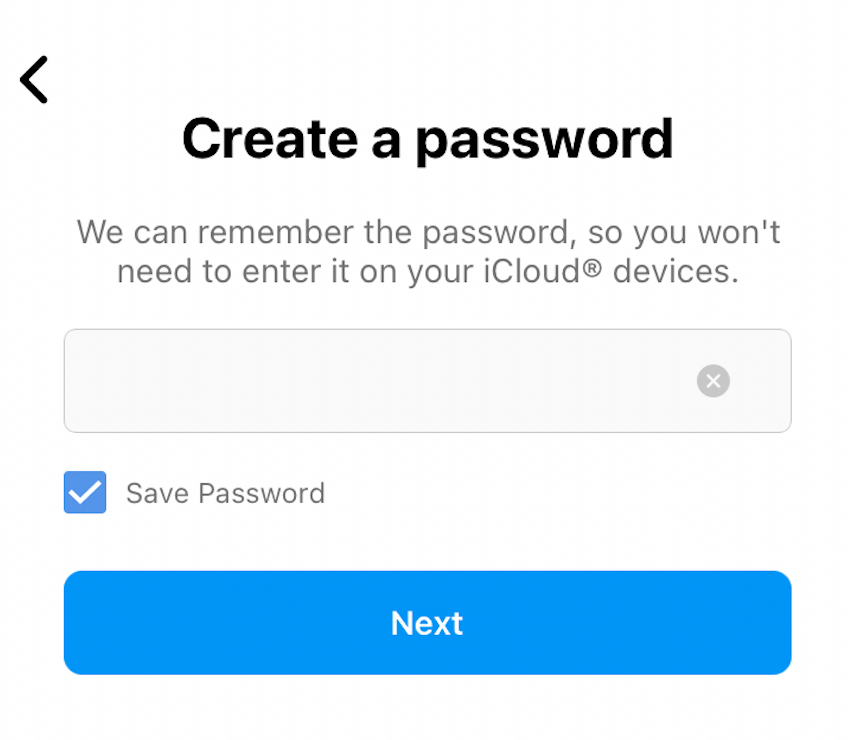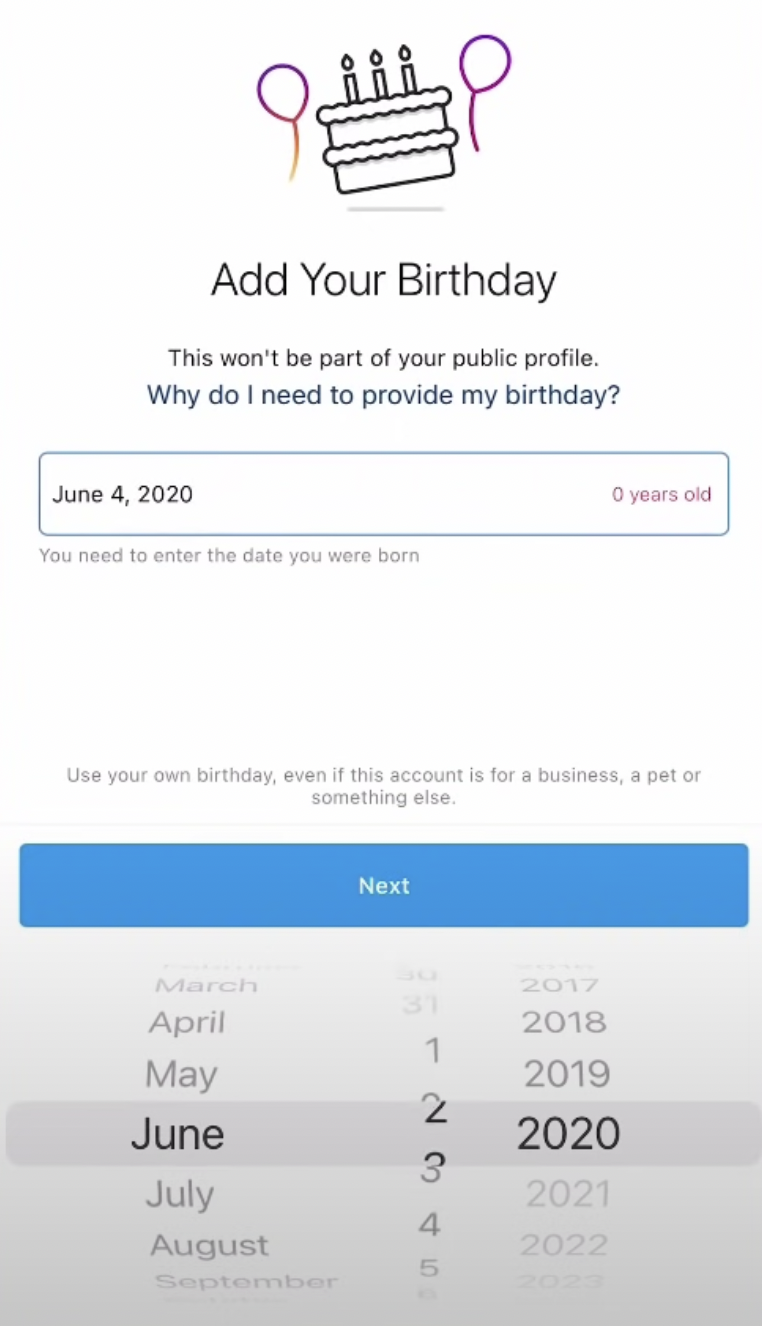 If you entered an email address, Instagram assumes you want to use the same username as your email. You can either tap Next

if you're okay with that, or

Change Username

.

If you want to change it, you will have to pick a unique username. Instagram will let you know if the name is already taken. Once you find a Instagram handle that nobody else has, you will see a green checkmark

in the right-hand corner of the box.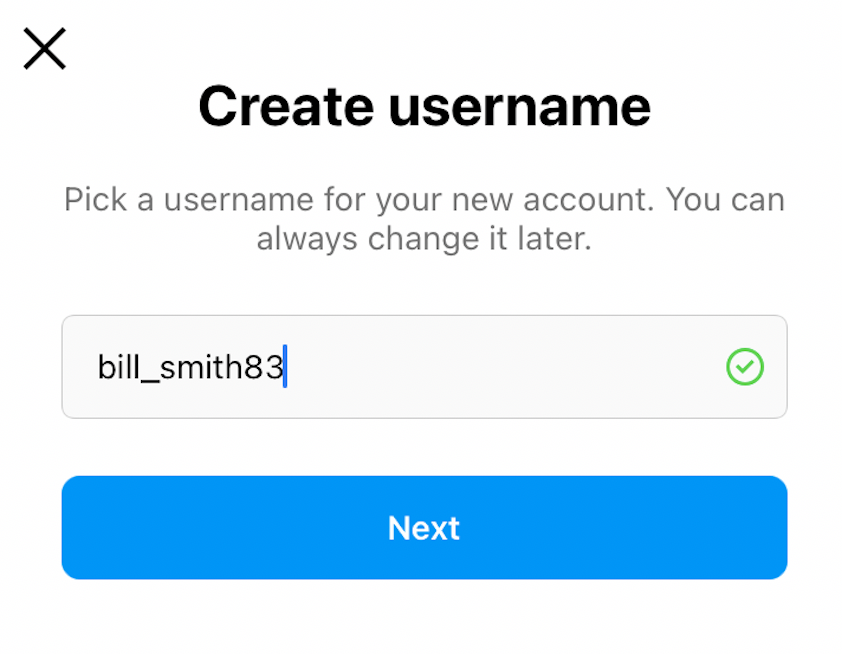 You then have the option of allowing the app to search your

Facebook account

and

phone contacts

to see if you have any friends on Instagram. (If you'd rather not do this, you can always tap

Skip

at the bottom of your screen).

On the next screen, you'll be prompted to add a profile photo

. You can choose one that's currently on your phone, import a profile pic from another social media app, or just take a new selfie using your phone's camera instead. (You can also

Skip

this and add a profile picture later on).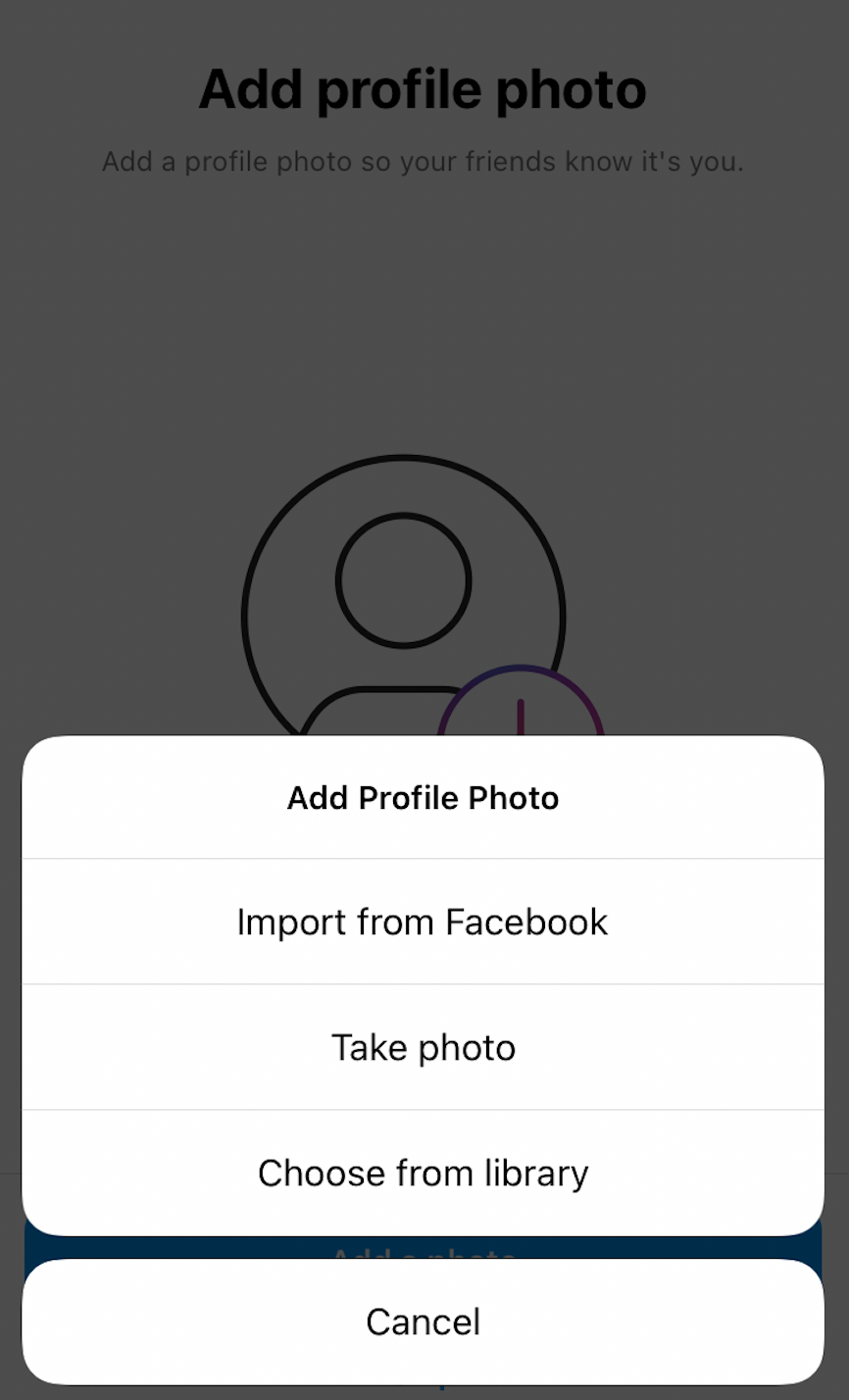 Instagram once again gives you the option to Connect to Facebook or Connect contacts. (If you wish to use either of these as a starting point for connecting with others, you will need to give the app permission to access this information).
The Discover People section is also where you can find some popular users to follow.

 To follow someone, click the blue

Follow

button to the right of their name.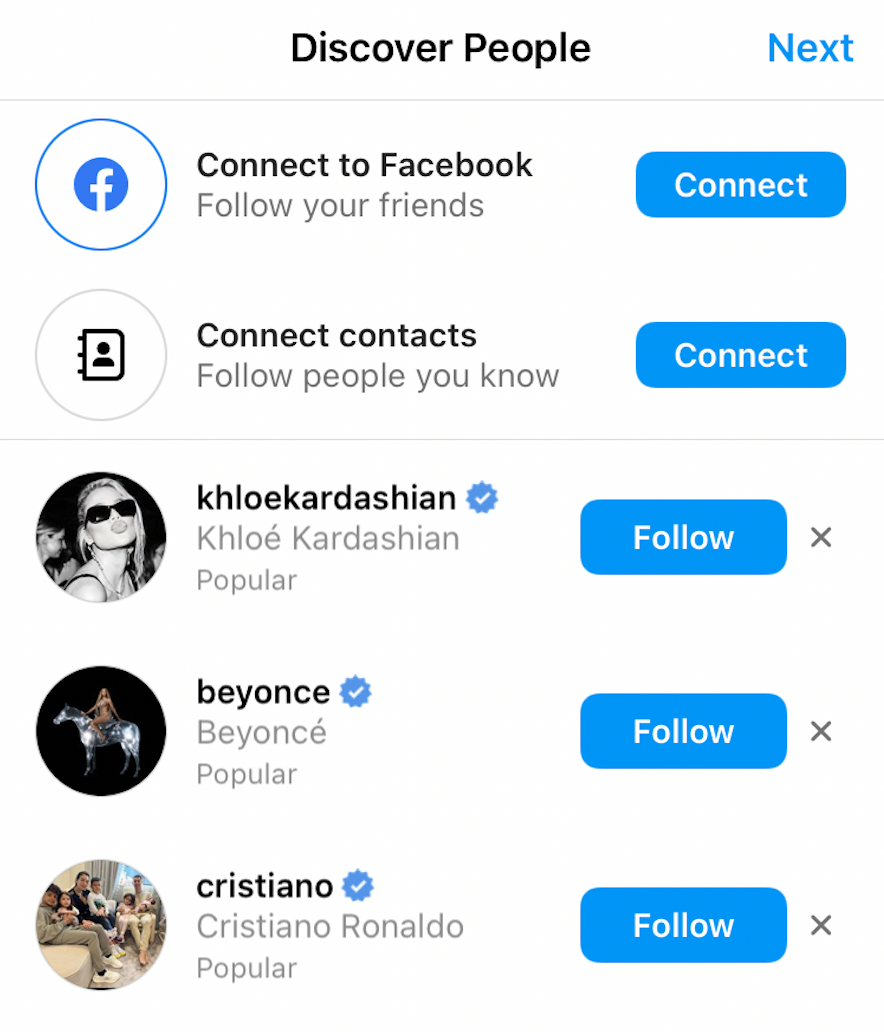 In the next lesson, we'll go over a few more steps for completing your profile. Then we'll take a look at the layout of your profile page and your Instagram feed.
Continue
/en/instagram-basics/your-profile-page-and-your-feed/content/