Lesson 3: Customizing Safari
/en/safari/browsing-in-safari/content/
Customizing Safari
If you want your browser to feel more personal and unique, it's easy to customize Safari. In this lesson, we'll talk about the different ways you can modify Safari, including startup options and extensions.

Check out the video below to learn the basics of customizing Safari.

Choosing your startup options
To choose a homepage:
By default, Safari will show the Favorites page whenever you start the browser. If you'd like to see a specific website each time you open your browser, like a news site or weather forecast, you can set that site as your homepage.
Click Safari, then select Preferences.

A Preferences window will open. Type the desired web address into the Homepage: field. In our example, we'll type www.weather.com.

Click the New windows open with: menu and select Homepage.
The homepage will appear whenever you start Safari.
To set Safari as the default browser:
If you want to use Safari as your only web browser, you can set it as the default browser on your computer. If you click a link in another program on your computer, like an email client, it will open in Safari.
Click Safari, then select Preferences.

Select Select Default... Any link you open on your computer will now open in Safari.
To show the full website address:
By default, Safari condenses website addresses in the Smart Search field, showing you only the domain name. If you would rather view the full address of the website, Safari allows you do to so.
Click Safari, then select Preferences.
Select the Advanced tab.

Click the box next to Show full website address. The full address of the website will be displayed in the Smart Search field from now on.
Safari extensions
Extensions can add additional features to the browser. For example, they can block advertisements and share a page with your social network.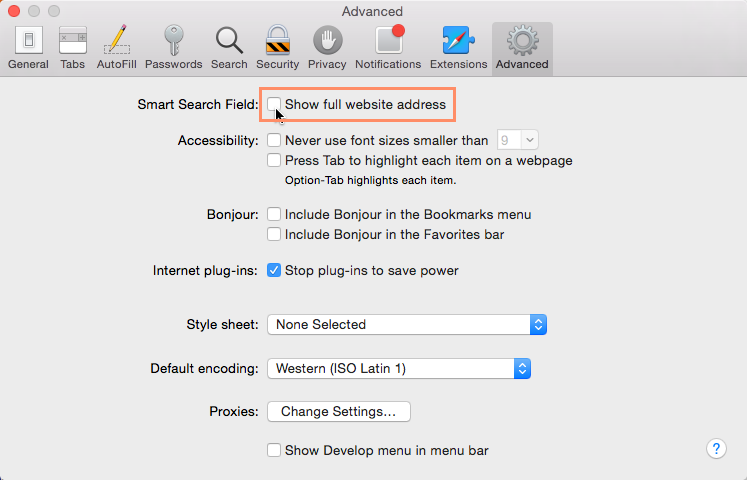 To install an extension:
Click Safari, then select Safari Extensions...

The Safari Extensions page will appear in a new tab. Scroll down to view several popular add-ons. In the search bar on the right, you can search for various extensions. In our example, we'll search for an extension that can translate webpages.
A list of results will appear. Locate the extension you would like to use and click Install now to add it. The extension will be installed. Some extensions will add buttons to the toolbar, while others will work in the background.
It's important to note that extensions are not necessarily created or approved by Safari. Many are created by third-party providers or even individual users, so they may not always be safe to install.
To manage extensions:
If you don't want to keep an extension, the Extensions tab in Preferences allows you to disable and even remove your extensions from Safari.
Click Safari, then select Preferences.

Click the Extensions tab.

From here, your extensions can be temporarily disabled or uninstalled.
Continue
/en/safari/bookmarking-in-safari/content/