Lesson 12: WordArt and BorderArt
/en/publisher2003/working-with-images/content/
Introduction
By the end of this module, you should be able to:
Insert and modify a WordArt style
Insert a BorderArt style
Using BorderArt and WordArt
Watch the video! (8:15 min)
You can use BorderArt and WordArt to draw interest to your publications. But be careful—a little be can go a long way. Be careful not to be distracting.
To apply BorderArt to a section of a page:
Draw a rectangle to use as the border:

Click the Rectangle icon on the Objects toolbar. A cross-shaped cursor will appear in your document.
Position your mouse in the upper-left corner where you want your object.
Click and drag your mouse to draw the rectangle.
Move and resize the rectangle as needed.

Apply BorderArt:

Select FormatAutoshape from the Main menu.
Click the BorderArt button in the the Format Autoshape dialog box.
The BorderArt dialog box will appear.


Select a border from the list. Check the effect in the preview area.
Click OK, then click OK in the Format AutoShapes dialog box.
To create WordArt:
Click the Insert WordArt icon on the Object toolbar.
The WordArt dialog Box will appear.


Select a style from the list.
Click OK.
Enter the text in the Edit WordArt dialog box.
Change the font, size, or style (bold or italic) if needed.
Click OK.
Move and resize the WordArt as needed.
To use the WordArt toolbar:
Select a WordArt object to make the WordArt toolbar appear.
Click Edit Text to edit the text.
Click the Change Shape icon (distorted letter A) to change the shape of the WordArt.
Click OK.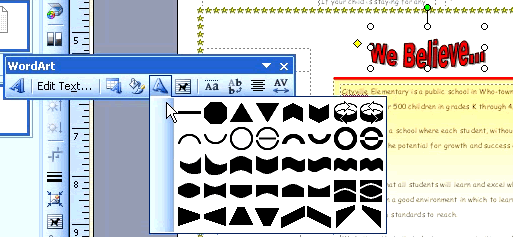 Challenge!
If you have not already done so in a previous challenge, download and save the sample newsletter publication to complete this challenge.
Open the Sample Newsletter publication.
Replace the blue border at the bottom of the second page with BorderArt.
Replace the We Believe... text on page two with WordArt.
Try different shapes for WordArt to see the different effects.
Save and close the newsletter to use in the next challenge.
Continue
/en/publisher2003/inserting-deleting-and-modifying-objects/content/