Lesson 3: Menus
/en/office2000basics/launching-office-2000/content/
Introduction
By the end of this lesson, you should be able to:
Discuss common menu featured in Office 2000

User friendly
The key components of Office 2000 are Word, Excel, PowerPoint, and Access. We will focus on these four applications throughout the Office 2000 skill sets.
It may seem as though it is impossible to learn all of the different applications in Microsoft Office.
Don't worry, Microsoft designed Office 2000 applications to be user friendly. Once you learn how to use one Office 2000 application, you should have little trouble learning the basics in other applications.
In our Windows lessons, you learned about many of the elements in Office 2000 application windows. In this lesson, you will learn about menus in Word, Excel, PowerPoint, and Access 2000.
Menus
Menu bars display commands. Some commands are the same in all Office 2000 applications, while others are different. Don't fret; you'll get the hang of it.
Word's menu bar:

To choose a command from a menu:
Click the menu name.
A menu—complete with a list of commands—appears.
Move the mouse pointer to a command and click on it.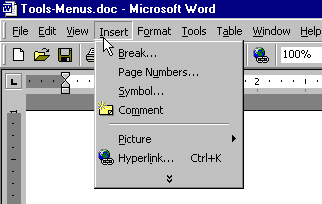 If there is a small black triangle next to a command, a cascading menu with additional options is available. Hover the mouse pointer over the command with the triangle, and the cascading menu will appear.
Office 2000 menus

Unlike Microsoft Office 97, Office 2000 provides three ways to display menu commands:
1. Display all commands (this is the way Office 97 works).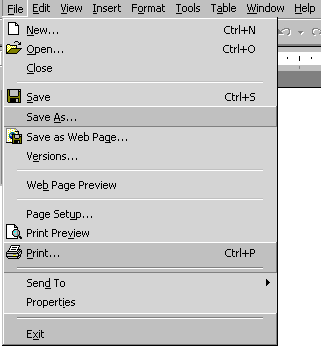 2. Hide advanced commands from view (this simplifies things a bit; however, you can still display the advanced commands. Click the double downward-pointing arrows at the bottom of the menu).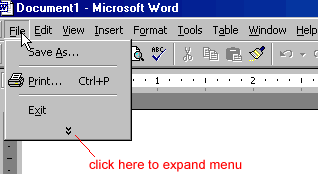 3. Hide the advanced commands from view, but automatically display them after a few seconds.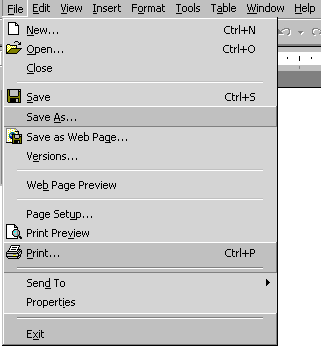 Changing the menu display
Displaying menu commands is a matter of preference. To change the way menus work in Word, Excel, PowerPoint, and Access:
Choose ViewToolbarsCustomize from the menu bar.
A Customize dialog box appears.
Click the Options tab. Select one of the following check boxes:

Show Recently Used Commands First
Show Full Menus After a Short Delay

Office 2000 applications have similar menus. Remember, the menus and menu commands differ slightly because each application performs a different function.
Word menu bar:

Excel menu bar:

Access menu bar:

Challenge!
Open Word, Excel, PowerPoint, and Access.
Explore each menu.
Make a short list of commands common to each application.
Continue
/en/office2000basics/toolbars/content/