Lesson 9: Adjusting Your Settings and Privacy on LinkedIn
/en/linkedin/searching-for-jobs-on-linkedin/content/
Adjusting your settings
As with any online service, it's important to learn about the various settings and options you have on LinkedIn. While you can change some settings to help you be more comfortable or productive, you can also adjust your privacy settings to control how much of your information is available for everyone to see.

Watch the video below to learn more about adjusting your settings.

To access your settings, click the Me icon in the top-right corner, then select Settings & Privacy. From here, you can change many elements of your account, such as your email preferences, password, and two-step verification. Whenever you change a setting, it will be saved automatically.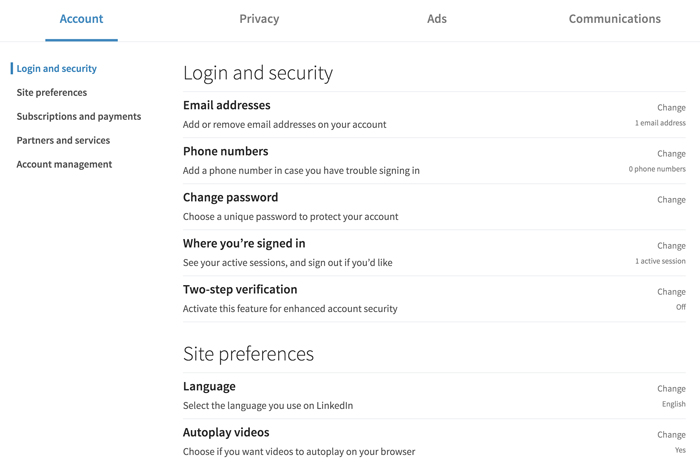 Advertisement settings
There are a fair number of advertisements on LinkedIn. However, many of them use information from your profile to send you targeted ads based on your location, interests, and education.

Luckily, you can change how you interact with these personalized ads. To limit what advertisers learn about you, click the Ads tab at the top of the Settings menu, and adjust each setting however you want. Keep in mind that even if you deactivate everything on this tab, you'll still see ads on LinkedIn. However, they will no longer be based on your personal information.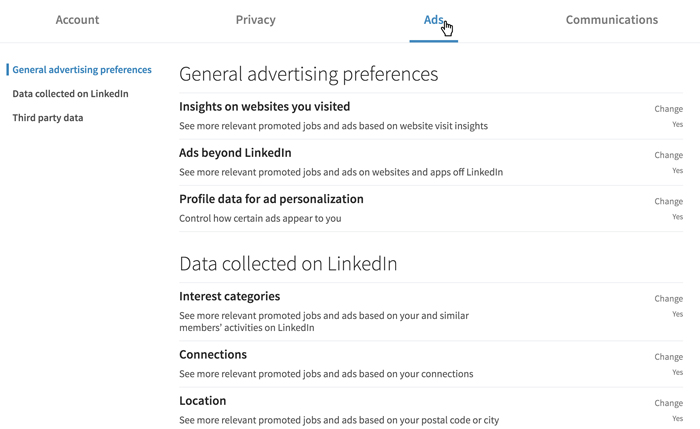 Privacy settings
If you want to control who can see your Activity feed and Connections or block certain people from seeing your profile, consider using LinkedIn's privacy settings. These settings can be useful if you're searching for a new job while you're still employed and want to make sure your current employer isn't notified of your profile changes.

To stop broadcasting your profile changes to your connections, click the Privacy tab in the Settings menu, then scroll down and click Share job changes, education changes, and work anniversaries from profile. Click the button so it reads No, and your connections will no longer be notified of your profile changes.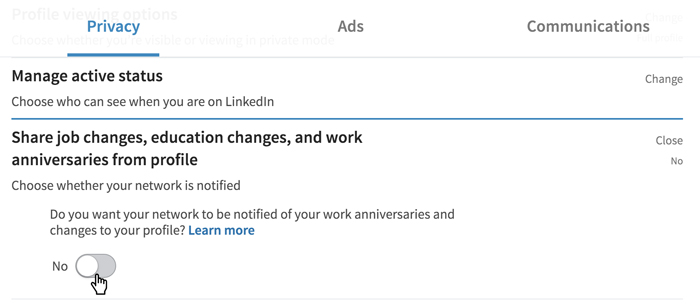 You may also want to limit how LinkedIn uses the data collected on you. Under the Privacy tab in the Settings menu, click How LinkedIn uses your data on the left side of the window. You can then adjust these settings however you want.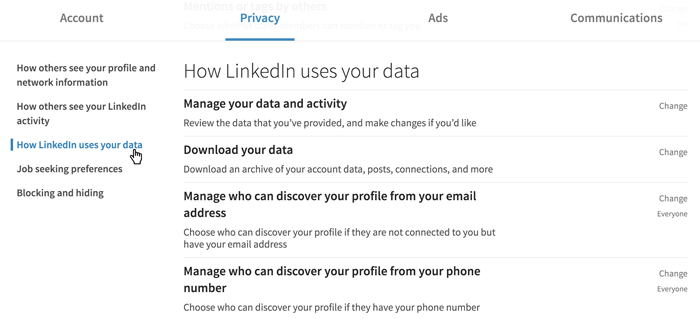 If you want to know what data has already been collected on you, click Manage your data and activity. From here, you can review data you've provided to LinkedIn or another company.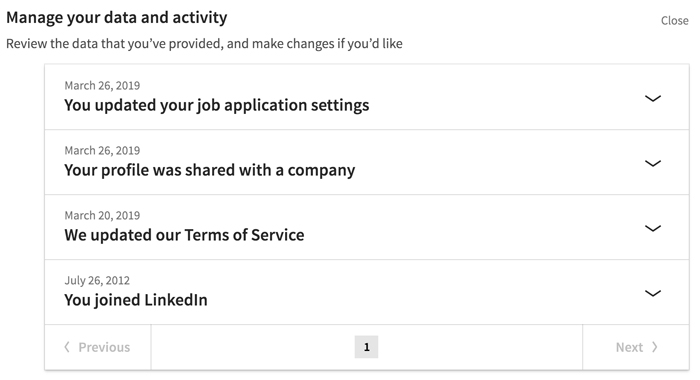 Continue
/en/linkedin/thanks-for-joining-us/content/