Lesson 27: iPhone X, 8, and 8 Plus: Frequently Asked Questions
/en/iphonebasics/iphone-7-frequently-asked-questions/content/
iPhone X, 8, and 8 Plus: Frequently asked questions
On September 12, 2017, Apple introduced three new versions of the iPhone: the iPhone 8, iPhone 8 Plus, and iPhone X (pronounced iPhone Ten). We'd like to offer you a brief overview of the new iPhones and try to answer some questions you may have at this time.
The iPhone X, 8, and 8 Plus are no longer the most recent versions, so parts of this lesson may be out of date.

What's new?
The iPhone 8 and iPhone 8 Plus are similar to the iPhone 7 and 7 Plus, but there have been various improvements to the processing power, cameras, screen, battery life, and more.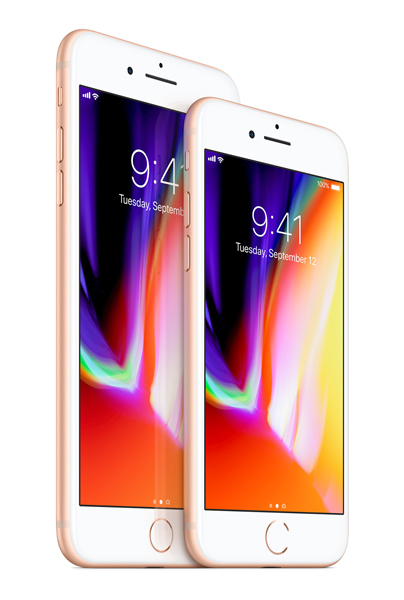 The iPhone X, on the other hand, is very different from any of the previous iPhones. It introduces a larger, higher-resolution screen, which extends almost all the way to the edge of the device (shown below). The screen uses OLED technology (a first for the iPhone) to give even better contrast and battery life. It is more powerful than the iPhone 8 and 8 Plus, but it's also more expensive.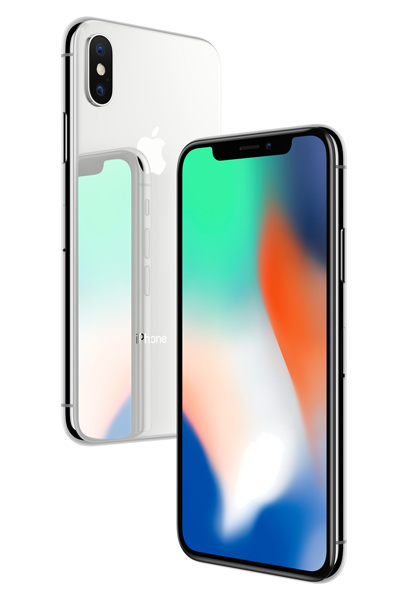 There are many other new features, including wireless charging, facial recognition, and animated emoji. Keep in mind that many of the new features are only available for the iPhone X, and not the iPhone 8 or 8 Plus. The Apple website has more information about the iPhone X and iPhone 8 and 8 Plus.

Why is the top of the screen shaped like that?
If you look at the iPhone X photo above, you'll notice that the screen doesn't quite fill the entire device. At the top of the screen, there is a black shape that the screen curves around, which many people are calling the notch. Many users don't like the way the notch looks, and there are concerns that it will get in the way when viewing a full-screen video or using apps.

But the notch is there for a reason: In addition to the speaker, microphone, and camera, several other sensors were added to the iPhone X in order to make the new Face ID feature work, including an infrared camera, flood illuminator, and dot projector. All of these sensors have to go somewhere—and the edge-to-edge screen didn't leave much extra space for them—so the notch was created to house these sensors.

Where is the Home button?
If you've used an iPhone before, you may have noticed that the iPhone X doesn't have a Home button. Because the screen is extended to the edge of the device, there is simply no room for a Home button. The iPhone 8 and 8 Plus still have a Home button, and it should work the same as it did in previous versions.
To replace the various functions of the Home button, the iPhone X will have some new capabilities:
To unlock your phone, a 3D camera will scan your face to verify your identity, allowing you to unlock your phone by simply looking at it. This feature is called Face ID.
Several new gestures will allow you to close or switch between apps.
Is Face ID secure?
The new Face ID feature has raised numerous questions about security. Could someone else unlock your phone by holding up a photo of you to trick the camera? Could someone who looks like you unlock your phone?
Apple claims that Face ID will be even more secure than the fingerprint-based Touch ID used by previous iPhones. It is designed to not be fooled by photos or people with similar faces, but only time will tell whether the security holds up to more advanced methods. If you're concerned about the security of Face ID, you should be able to disable it and use a passcode instead.
How does wireless charging work?
The iPhone X, 8, and 8 Plus are capable of wireless charging, which means you can put your phone onto a special charging mat instead of plugging it in. Apple's AirPower charging mat has not yet been released, but other brands (like Belkin and Mophie) make mats that are compatible with the iPhone. Just make sure to look for a mat that uses the Qi wireless charging standard. If you prefer not to buy a charging mat, you can still charge your phone using the included Lightning cable.

Wireless charging isn't perfect. It's slower than wired charging, and the mat itself has to be plugged in to a power source like a computer or wall outlet. However, you may find it more convenient, and you can also charge multiple devices with a single charging mat (such as an iPhone, Apple Watch, and AirPods, shown below).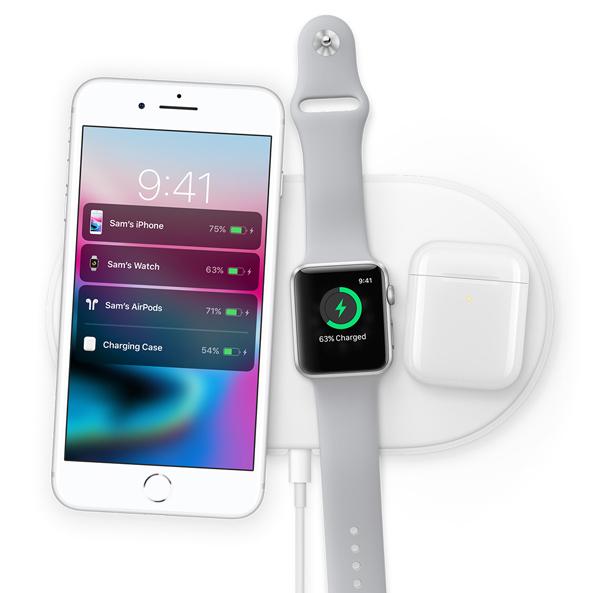 How much does it cost?
The iPhone 8 (64GB) has a 4.7-inch screen and starts at $699.
The iPhone 8 Plus (64GB) has a 5.5-inch screen and starts at $799.
The iPhone X (64GB) has a 5.8-inch screen and starts at $999.
For all three iPhone models, 256GB versions are also available, although these cost more than the 64GB versions.

There are different payment plans available depending on your wireless provider. Instead of paying the full cost upfront, you can sign up for a plan that pays for the phone as part of your monthly phone bill. In addition to regular cell phone service, you'll be required to purchase a mobile data plan, which usually costs at least $20 per month.
The iPhone 7, 6s, and SE will still be available to purchase for a cheaper price if you're looking for a less expensive alternative.
When will it be available?
The iPhone X, 8, and 8 Plus are available now.

Which iPhone should I buy?
Between the iPhone X, 8, 8 Plus, and older versions that are still available for purchase, Apple likely has its most varied iPhone lineup ever. This gives users a lot of flexibility to choose an option that will fit their needs and budgets.
The iPhone X has the highest-quality screen, and it also has some other features that are not available on the 8 or 8 Plus, like Face ID. Even though it has a larger screen, it's actually a bit smaller than the 8 Plus, which should make it easier to hold or fit in your pocket. However, it's significantly more expensive, so you'll want to think about whether you need the extra features.
Although the 8 and 8 Plus lack some of the features of the iPhone X, they still have better specs than any iPhone from previous years. So if you're upgrading from a previous version, you'll still enjoy a better camera, faster processor, and many other updated features.
If none of the new iPhones fit your budget, you may want to look at one of the older models. For example, the iPhone SE can be bought for as little as $349—a fraction of the cost of the iPhone X. However, these models will likely be outdated more quickly than the current models.
Still unsure about which iPhone to buy? Apple makes it easy to compare iPhone models.
Do I need a case?
Although you can use it without one, it's a good idea to purchase some type of case. All iPhones use glass screens that can break if dropped.

Continue
/en/iphonebasics/ios-9-frequently-asked-questions/content/