Lesson 9: Installing and Managing Apps
/en/iphonebasics/browsing-with-safari/content/
Installing and managing apps
Even if you're new to the iPhone, you've probably heard of apps. The concept is simple: Apps are programs that are designed to run on your device. The iPhone comes with several built-in apps, but you can download more apps from the App Store. The iPhone also makes it easy to manage the apps on your device.
The App Store
The App Store gives you access to hundreds of thousands of apps. You'll find everything from games to entertainment to productivity tools—even apps that can help you with common tasks like studying for an exam, cooking dinner, or keeping track of travel plans.
There are thousands of apps you can download for free. Many other apps cost as little as $0.99, although some may be more expensive. If you're not sure which apps to try first, the App Store can help by giving you recommendations or showing you what's popular with other iPhone users.
Click the buttons in the interactive below to learn more about the App Store interface.

You'll need an Apple ID and valid credit card to purchase apps from the App Store (including free apps).
Browsing the App Store
When you first visit the App Store, you'll see a variety of new apps and games you can browse. If you're looking for something more specific, you can tap the Apps
button and navigate to the desired category.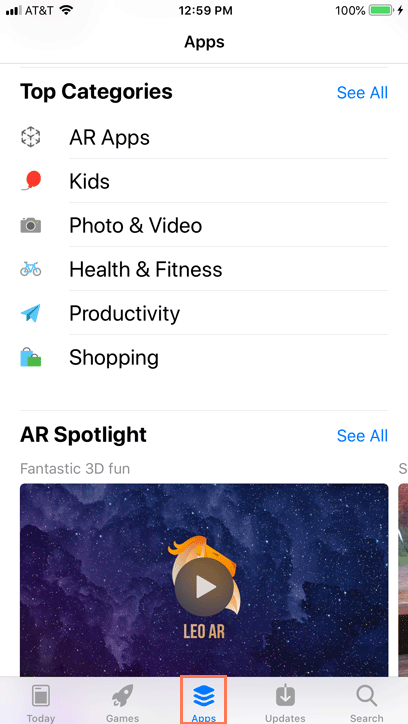 Within each category, a list of popular apps will appear. Each app will note its price (or it will say Get if it's free). Simply tap an app to learn more about it. The app page will appear with information on how the app works, user reviews, screenshots, and more.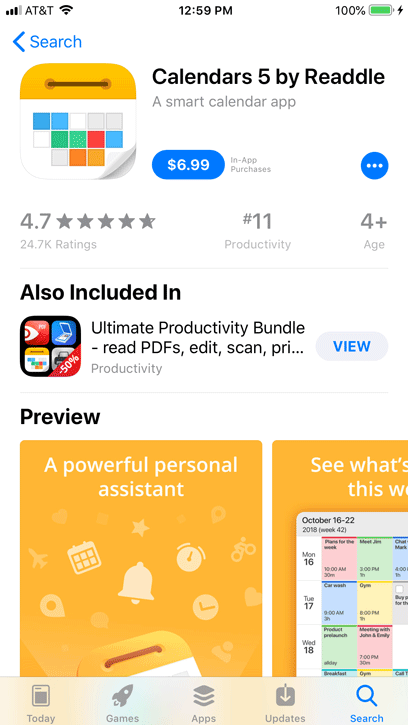 Multi-tasking
You may be used to running several programs at the same time on your computer, which is also known as multi-tasking. On the iPhone, multi-tasking works a bit differently. Although you can't use several apps at the same time, you can easily switch between apps without going to the Home screen. For example, you might be browsing in Safari and decide to send a message through the Mail app.
To make multi-tasking as seamless as possible, your iPhone will keep recent apps paused in the background. When you switch to a recent app, you won't have to wait for it to load. You can simply pick up where you left off.
To switch between apps:
Quickly press the Home button twice. A preview of your current apps will appear. You can swipe left or right to browse through the current apps. Simply tap an app to open it.
To close apps:
When you switch to the Home screen, the app you're using doesn't actually close; it just remains paused in the background. However, if an app stops working correctly, it sometimes helps to force the app to close. This is similar to force-quitting an unresponsive program on a computer.
Keep in mind that you don't need to close apps this way unless there is a problem. Because the apps are paused, they won't slow down your iPhone or drain the battery.
Quickly press the Home button twice. A preview of your current apps will appear. Swipe up on any app to close it. You can then restart the app from the Home screen.
Background App Refresh
The iPhone also uses a feature called Background App Refresh to update certain apps in the background, which can have a small effect on your battery life. If you prefer, you can turn off Background App Refresh for some or all of your apps. To modify these options, open Settings, tap General, then select Background App Refresh.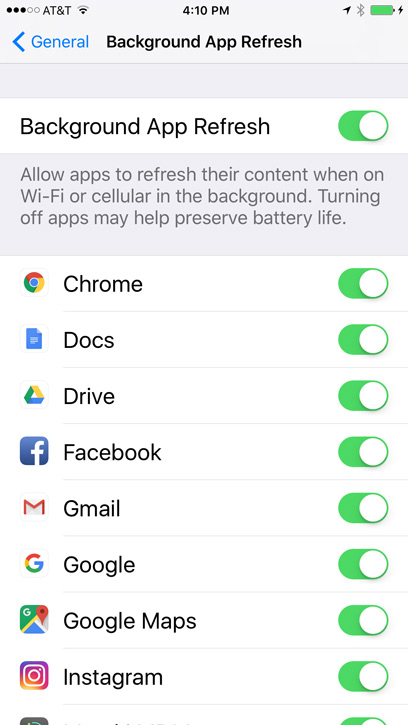 To learn more about multi-tasking, review this support page from Apple on Understanding Multitasking.
Managing apps
The Home screen contains an icon for every app on your device. This means it can get pretty crowded, especially if you've installed a lot of apps from the App Store. Here are some tips to help you customize your Home screen so your favorite apps are always easy to find.
Rearrange your icons by touching and holding any app on the Home screen. When the icons begin to shake, drag and drop them wherever you want. To move an icon to another screen, drag it to the left or right edge and hold until it switches to the new screen. You can also move apps on or off the dock if you want. When you're done, press the Home button to make the icons stop shaking.

If you're on the last page of apps, you can create an additional Home screen by dragging an icon to the far right edge. When you're done, press the Home button.

Create a folder by dragging one icon on top of another. To add more icons to the folder, keep dragging and dropping the ones you want. This is a great way to organize similar apps and remove clutter from your Home screen. When you're done, press the Home button.

Search for apps by swiping down from the middle of the Home screen. A search box will appear at the top of the screen. Start typing the name of the desired app, and any apps matching your search will appear (along with other files and settings on your iPhone).

Delete apps by pressing and holding any app on the Home screen, then tapping the X in the top-left corner. Note that built-in apps cannot be deleted. When you're done, press the Home button.
Updating apps
Over time, many apps receive updates from the app's developer. Updates usually help an app run more smoothly and may even introduce new features.
By default, your iPhone will automatically download these updates. However, you can turn this feature off if you would prefer to manually update your apps. If automatic updates are turned off, a notification badge will appear on the App Store icon whenever an update is available for any of your installed apps.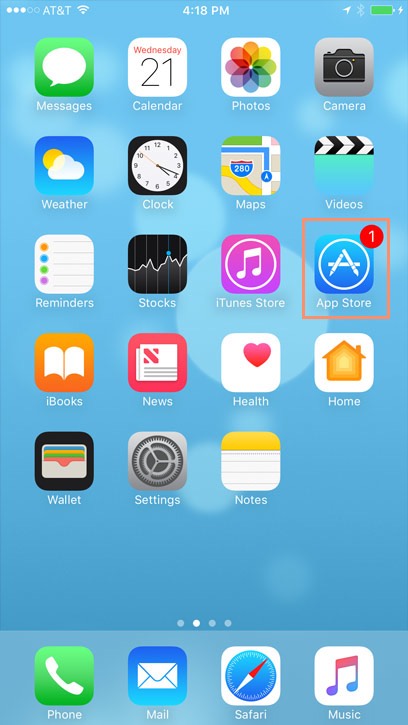 To change your automatic update settings:
Open Settings from the Home screen, then tap iTunes & App Store.

Tap the Updates control to turn automatic updates on or off.
To update an app manually:
If you've turned automatic updates off, you'll need to update each app manually.

Open the App Store, then tap Updates in the bottom-right.
A list of available updates will appear. To update an app, tap Update. You can also tap Update All to install all available updates.
Continue
/en/iphonebasics/security-and-general-settings/content/