Lesson 2: Creating a Google Account
/en/googleaccount/getting-to-know-google/content/
Creating a Google account
Creating a Google account is fairly simple. You'll need to provide some basic information. Once you create and verify your account, you'll be able to use Gmail, Google Docs, Google Calendar, and many other services. Creating a Google account will automatically create a Gmail email address.
If you have a Gmail address, you already have a Google account so you won't need to create an account. You can simply sign in to Google using your Gmail information.

Steps to create a Google account
Go to www.google.com. Locate and select the Sign in button in the top-right corner of the page.

Click Create account. A dropdown will appear asking if the account is for personal use, your child, or for work/your business. Select one of these options and click Next. 

The signup form will appear. Follow the directions by entering your first and last name and choosing a unique username. 




Just like with any online service, it's important to choose a strong password

—in other words, one that is difficult for someone else to guess. For more information, review this 

Creating Strong Passwords

 lesson from our 

Internet Safety

 tutorial.

Next it will ask for your 

phone number

, a 

recovery email address

, 

birthday

, and 

gender

. This information is kept confidential. It's very important that you enter correct information, in case you get locked out of your account. Then click 

Next

.  




Then you

will be asked to

Verify your phone number. Input your phone number into the box provided, and click Next. 

This will bring you to the Privacy and Terms statement. Read through it, and if you agree with the terms, scroll down and click the blue button at the bottom that says I agree. 

That's it! Now you are logged into Google. In the top right corner, you will see your profile icon. Click it in order to Manage Your Google Account and add things like a profile pic.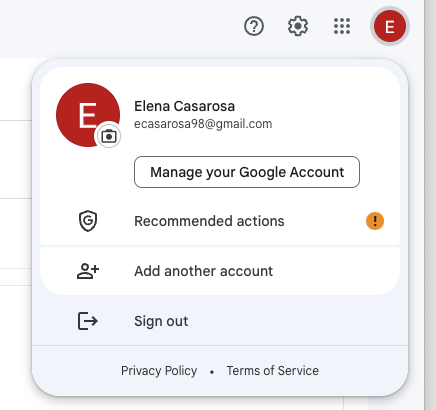 In the next lesson, we'll explain more about Google privacy. 
Continue
/en/googleaccount/understanding-google-privacy/content/