Lesson 1: How to Join a Meeting
How to Join a Meeting
When you can't meet in person, video chatting is a good alternative. Google Meet is a video calling service which allows you to connect face-to-face. Joining a Google Meet call is easy to do, and all you'll need is a link or code. 
Watch the video below to learn how to join a meeting, as well as the basics of using Google Meet:
Updates: Google Meet's user interface has changed since we made this video. The updates are reflected in the steps and pictures below.
Entering by Email Invitation
First, log into your Google account. 

Next you'll need to navigate to your inbox and open the Google Meet email invitation. 

From the email invitation, click the link to the Google Meet.

Some pop-ups may occur if you haven't used Google Meet before. Click Allow to approve the use of your camera, microphone, and notifications.

Before entering the meeting, you can select the sound and video settings you want to use. You can choose to join the meeting with your microphone and camera on or off by clicking their icons. You can always change these options inside the video call, too. 

If you're using Chrome as your browser, you can also click the visual effects icon in the lower right corner. This will allow you to blur your background, choose a unique one, or use a style filter. 

Once you have selected your settings, click Join now. 
If you received a Google Calendar invite instead of an email invitation, click the event to see more information. Then click the Join with Google Meet button.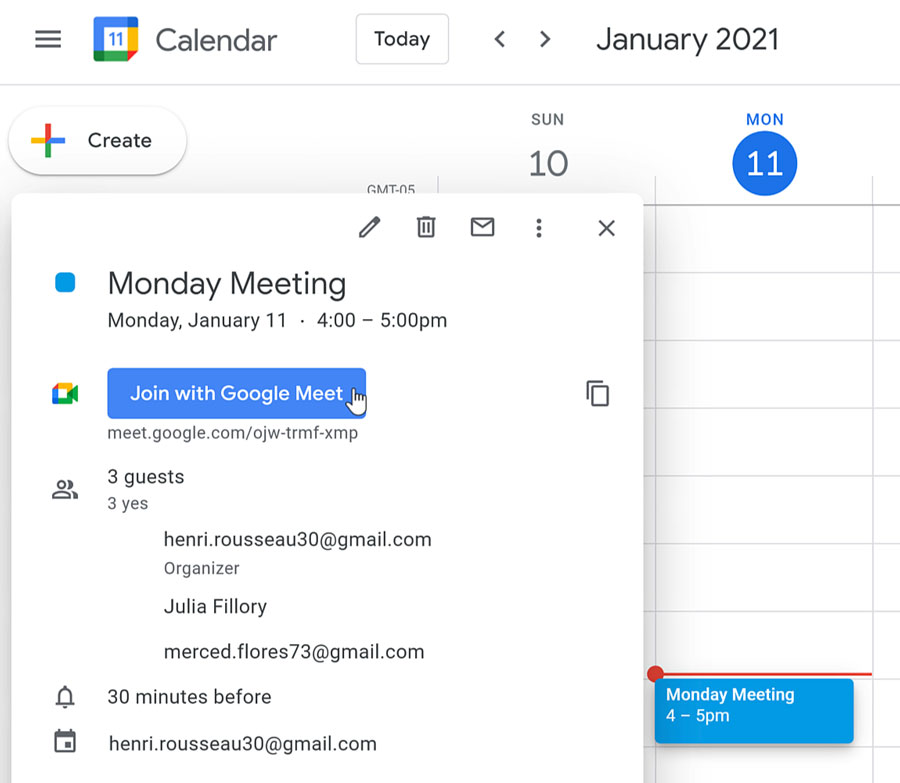 Video Call Basics
Once you've joined the call, you'll see your video tile as well as the tiles of the people you're chatting with on your desktop screen.

To see the bottom toolbar, hover your mouse over the Google Meet window. You can turn your microphone

 and 

camera on or off at any time just by clicking their icons. 

On the bottom toolbar, click the three dots icon. A pop-up menu appears showing other features. We'll talk more about Settings later in this lesson.
Typing a Message in the Chat
Navigate to the right-hand corner of the bottom toolbar. You can see written messages by clicking the chat icon.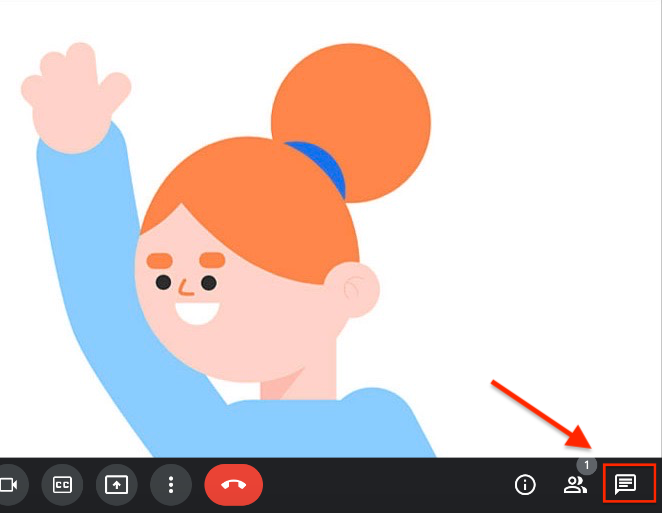 Type your message in the field. Then click the

arrow button

to send it to everyone on the video call. You can also read and respond to messages from other participants, too.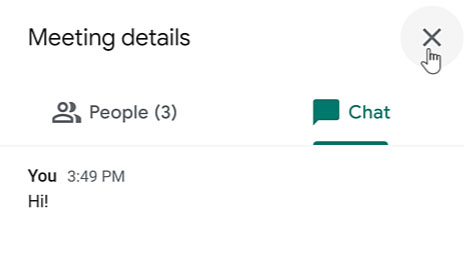 Adjusting Settings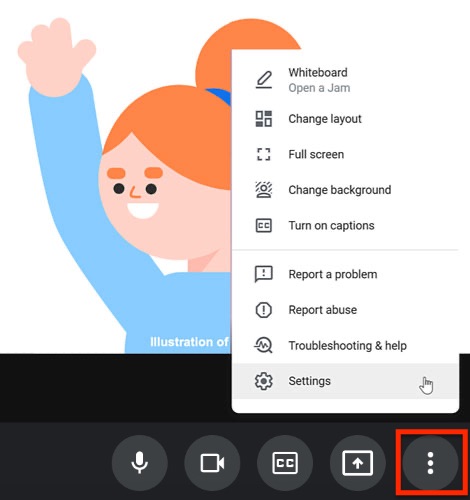 In

Audio

, you can

Test

your speakers to make sure they're working properly. Double-check Settings if you find yourself unable to hear who you are talking to, or if

they say that they can't hear or see you.

Ending the Video Call
Hover your mouse over the Google Meet window to make the bottom toolbar appear. When you're ready to end the video call, click the red Leave call icon.


Continue
/en/google-meet/how-to-host-a-meeting/content/