Lesson 3: Selling Items
/en/etsy/buying-items/content/
Selling items
In addition to being a great way to buy handcrafted items, Etsy is a useful tool for selling your own work. In order to do so, you'll need to set up an online store with Etsy. This is less of a hassle than having to create your own website, and it allows your work to be viewed by a fairly large audience.
While creating a store with Etsy is free, there are some fees for listing and selling items. There's a listing fee of $0.20 for every item you list. When a sale is made, there's a 3.5% transaction fee and a payment processing fee. The processing fees vary by location, but you can view the fees for your country using this table.
Your fees will be totaled into an Etsy bill, which is due the first day of every month and which will include all fees from the previous month. We recommend enrolling in Etsy's AutoBilling feature so your bill is paid on time and you aren't penalized.
If you only need to sell one or two items, you may prefer to use eBay instead.

To set up a store:
Etsy makes it easy to set up a store. All you need to do is complete a series of forms and you'll be good to go. Before you get started, you'll want to make sure you have an Etsy account. See our Getting Started with Etsy lesson for help creating an account.
After you've created an account, click the Your Shop button located in the top-right corner of the website.

A registration page will appear with various forms you'll need to fill out, including your preferences, the shop's name, the forms of payment you'll accept, and how you'd like to be billed for your fees. You'll also create listings for your work during this process, so make sure you're ready to start selling before you begin creating your account.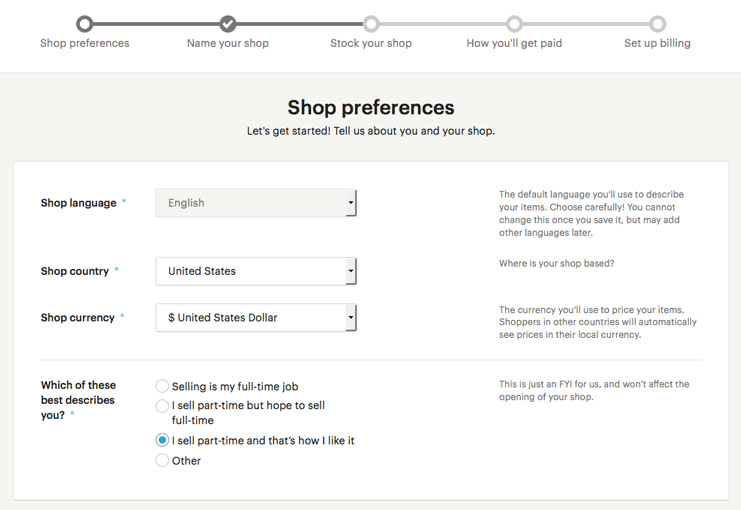 Once you've completed the necessary forms, your shop will be ready and open to the public. Then you can visit this page for ideas on how to increase traffic and market your shop effectively.

What to do when you make a sale:
Once someone buys an item of yours, there are several steps you'll need to take. When you sell an item, you'll receive an email that includes information on the item that was purchased, who bought it, how the item was paid for, and more. Before you take any further action, you'll want to make sure you've received a payment from the buyer.
Once you've confirmed this, it's time to package up your item for shipping. It's recommended that you include a thank-you note with the item. It may make buyers want to purchase from you again in the future, and it's a good opportunity to ask them to leave feedback for you on your Etsy profile.
You'll also need to print a shipping label and use the Shipping Notification tool to let the buyer know the package is on its way. Then you just need to ship it off and you're done! For help with these steps, you can read this Etsy article.