Lesson 2: Buying Items
/en/etsy/getting-started-with-etsy/content/
Buying items
Etsy has almost 2 million active sellers online, with each of them creating and selling all types of unique items. In this lesson, we'll go over how to search for and buy items.
To search for items:
Simply type a keyword into the search bar on the homepage, then click the Search button.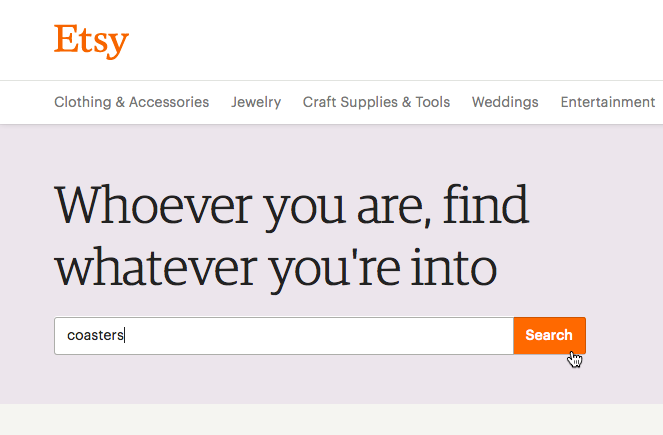 A results page will appear, displaying a list of results related to your search terms. Etsy offers several ways to sort and narrow down your searches.
Categories: At the top of the search results will be thumbnails of different categories. Click one of them to only view results listed within that specific category. You can also select a category from the menu on the left side of the screen.

Sorting options: Search results are automatically set to be sorted by Relevancy. Using the Sort by menu located at the top-right of the screen, you can also change the results to be sorted by Most Recent, Highest Price, and Lowest Price.

Search refinements: Along the left side of the screen, you'll find a pane with various filters, including the item's shop location, type, price, and color. Simply select the options you want, and your search results will change accordingly.
To browse for items:
If you're not quite sure exactly what you want to buy, you can browse Etsy using its categories and collections. At the top of Etsy's homepage, you'll find a menu bar containing various categories of items.

Simply hover your mouse over a category and a menu will appear with several more subcategories. Click a subcategory to open it.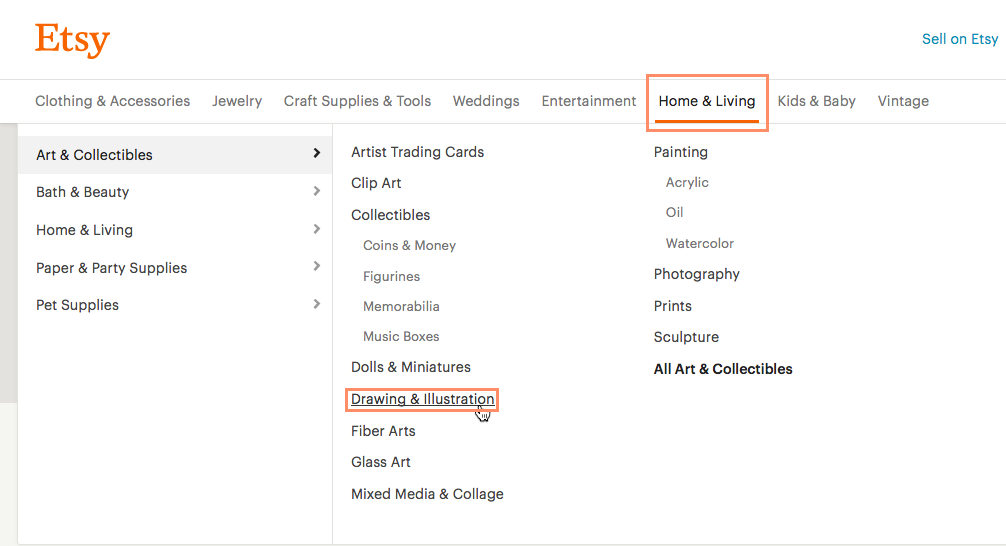 You'll be taken to that subcategory's page, containing items for sale and further options for narrowing down your browsing.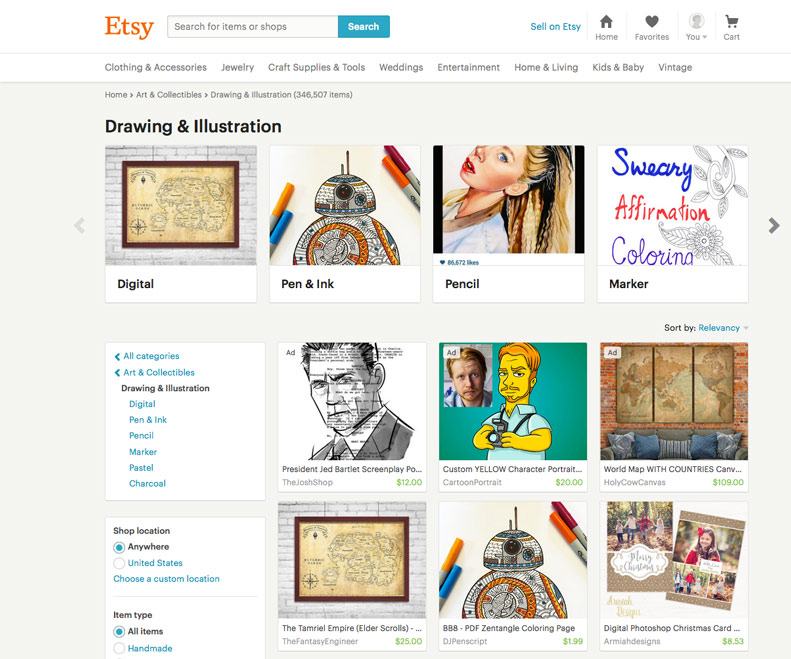 Viewing and buying items
Once you've found an item you're interested in buying, you can take a closer look at its page. There, you'll find information on the item, the shop selling it, and details about the sale itself.
Click the buttons in the interactive below to become more familiar with the Etsy listing page.
Most shops on Etsy accept credit cards or PayPal as forms of payment. For more information on what PayPal is and how to use it, you can review our What is PayPal? lesson. Some shops also accept Etsy gift cards, which can be both purchased and redeemed here.
To buy an item:
Etsy makes buying things from sellers easy, with a streamlined process and checkout system.
On the page of the item you want to purchase, click the Buy it now button. You can also click the Add to cart button if there are additional purchases you'd like to make.

A window will appear, prompting you to select a payment method. Select a method, then click Proceed to checkout.

On the page that appears, complete the necessary forms, entering your shipping and payment information, then click Submit order.
Your order will be completed. You'll receive a confirmation email and can check on your order and its status by clicking the You button menu in the top-right corner of the site, then selecting Purchases and reviews.
Continue
/en/etsy/selling-items/content/