Lesson 12: Getting Started with Your Channel
/en/youtube/parental-controls-and-safety-mode/content/
Getting started with your channel
So you've decided to share your own videos on YouTube—that's awesome! At the end of the day, YouTube isn't just about viewing and commenting on other people's videos; it's about sharing and expressing your own creativity.
You'll share videos from your very own YouTube channel. And even if you've never uploaded a video to YouTube, you already have a channel. Just select My Channel from the Guide to view your channel any time.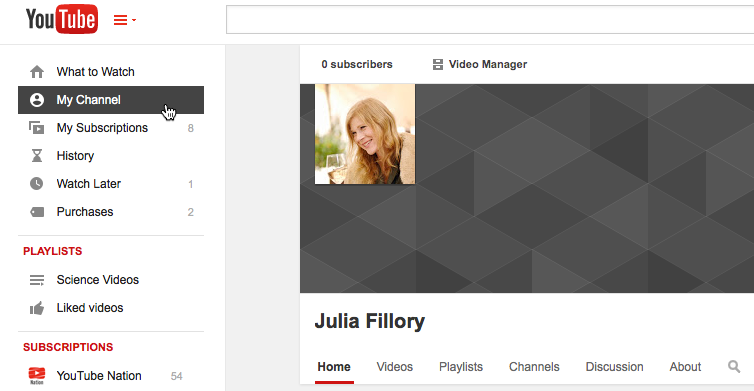 You can think of your channel a bit like a profile page on another social networking site. By default, it will show the videos you've liked and any playlists you've created. And once you record and upload your own videos, it's where others can find and view your content.
Before you begin uploading videos, there are a few things you may want to customize about your channel. For example, you might want to change your avatar, which is like a profile picture for your channel. Watch this video from the YouTube Help channel to learn how to change your channel avatar:
You can also customize your channel art, which is a large image that will appear behind your avatar whenever someone visits your channel page. Watch this video from the YouTube Help channel to learn more about customizing your channel art:
If you'd prefer not to share videos from your personal account, you can create a channel that's separate from your personal user name. Let's say you're planning to start your own channel about [insert your own cool channel idea here]. You could create a separate channel to upload and share your videos while still using your personal account to view and comment on videos. Go to this support page to learn how to create an additional channel.
Note that this will also create a new Google+ page for that channel, which is basically just a way for people to interact with that channel on Google+. You can visit this support page from Google to learn more.
/en/youtube/recording-your-own-videos/content/