Lesson 4: How to Write an Effective Business Email
/en/writing-skills/how-to-write-a-formal-business-letter/content/
How to write an effective business email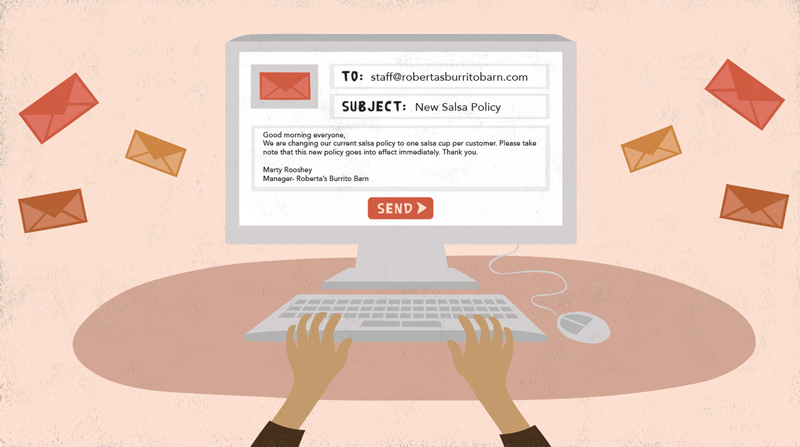 Since the professional world embraced the Internet, email has been a cornerstone of business communication. Over the years, business emails have developed a style and structure that you can use to create more effective messages.
Watch the video below to learn the basics of writing a business email.
The basics of a business email
All business emails should be direct, clear, and easy to read. The tone of a business email, however, can vary from informal to formal. The formality can depend on your company, the intended audience, subject matter, and several other factors. If you're unsure how formal your email should be, review our lesson on how formal an email should be.
Regardless of the formality, remember to stay professional because you lose control of the email once you click Send. Emails can be copied and forwarded to others indefinitely, and if you're inappropriate or unprofessional, your poor choice of words could follow you.
Writing a business email
As with any email, a business email should include a brief but descriptive subject line, one or more recipients, and an attachment if needed. If you are including multiple recipients, consider using the CC (carbon copy) field to keep the extra recipients in the loop without requiring them to respond. To learn more about the basic parts of an email, take a look at our lesson on common email features.

When you start writing the main content of the email, there's a simple and effective structure you can follow:

Greeting: Make it brief and friendly, and address the recipient by name if you know it. For instance, "Hi Jonathan" or "Greetings Ms. Childress" are both reliable introductions. The first name is preferable if you're more familiar with the recipient, while you should use their last name if you want to be more formal.
Body: Start with your main point so no one has to hunt for it, and keep your writing concise and focused on the concerns of your audience. If you need a response from the recipient, make sure to include a call to action so they know how and why to respond. Also, if you've attached a file, be sure to mention it here.
Ending: Offer a quick farewell, such as "Thanks" or "Sincerely", then give your name and contact information in case they have questions.
Revision
Although email is meant to be quick, always take time to revise your writing before you click Send. Review your spelling and grammar, and confirm the accuracy of any facts you present. If you read the email aloud, you may find additional errors or realize that your words are missing a professional tone.
Make sure any attachments you mention are actually attached, and confirm that any included web links are correct. Broken links, missing attachments, and incorrect information only slow things down and force you to send correction emails.
Examples of business emails
To demonstrate the principles of this lesson, let's look at two examples of business emails. First, let's start with a poor example.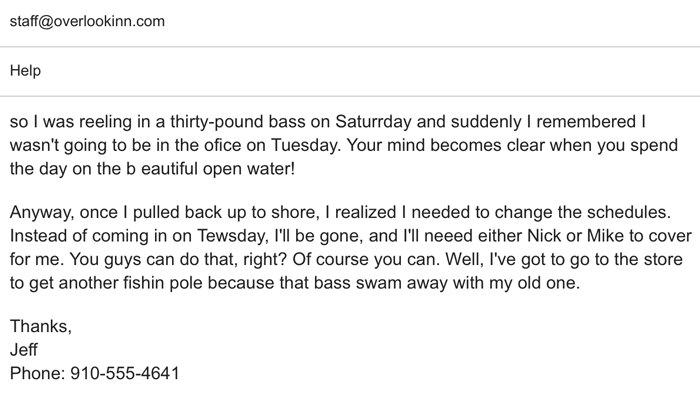 The example above is looking rough. The subject line is vague, the body is full of spelling errors and rambling thoughts, and the main point is difficult to find. Plus, the overall tone is unprofessional.
Now let's take a look at a more polished example.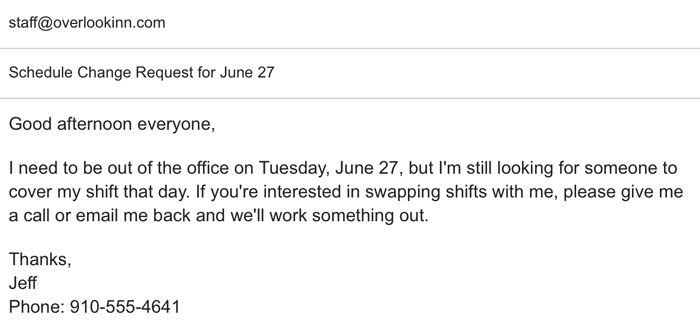 This example looks good! The subject line grabs your attention, the body is concise and error-free, and there's a clear call to action. Emails like these help businesses run smoother and more efficiently.
Writing concise emails is a key skill in the professional world, which you can develop through consistent practice. Keep writing and learning, and you'll become a more effective communicator with each email you create.

Continue
/en/writing-skills/active-vs-passive-voice-in-your-writing/content/