Lesson 1: Word Window, New, Open and Change View
Introduction
Microsoft Word 2000 is the word processing application in the Microsoft Office suite. Create professional-looking, formatted text documents with this powerful Word processing software.
By the end of this lesson, you should be able to:
Identify the parts of the Word window
Create a new document
Open a previously saved file
Change the document view
The Word window
Word is the word processing application included in the Microsoft Office 2000 suite. Aside from Word processing, Word allows you to perform many tasks in a typical office environment.
Shown below is the Microsoft Word default window. When Word is launched, a new blank document—or default window—opens in Print Layout view. Although window elements are fully explained in our Windows tutorial, here is a brief explanation of the Word window.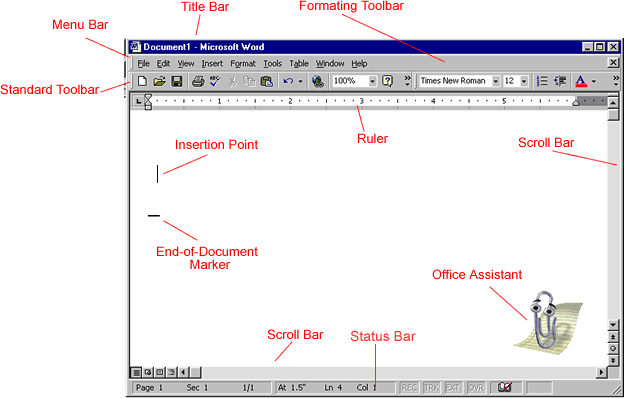 Title bar
This displays the document name followed by a program name.
Menu bar
This contains a list of options to manage and customize documents.
Standard toolbar
This contains shortcut buttons for the most popular demands.
Formatting toolbar
This contains buttons that are used for formatting text.
Ruler
This is used to set margins, indents, and tabs.
Insertion point
This is the location where the next character appears.
End-of-document marker
This indicates the end of the document.
Scroll bars
This is used to view parts of the document.
Status bar
This displays the position of the insertion point and working mode buttons.
Office Assistant
This links to the Microsoft Office Help feature.
Create a new document
There are three ways to create a new document in Word.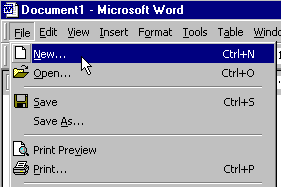 When you launch Word, it automatically creates a new document.
Choose FileNew (Ctrl+N).
Click the New Blank Document button on the Standard toolbar.
Opening a previously saved file
You will spend a lot of time editing documents you created and saved at an earlier time. There are four ways to open a previously saved file.
To open a previously saved file:
Choose FileOpen (Ctrl+O).

OR
Click the Open button on the Standard toolbar.

OR
The last four files you saved appear at the bottom of the File menu. Choose one from the list.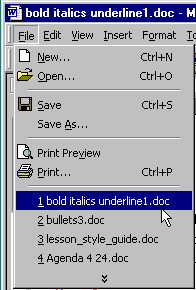 Remember: Save As allows you to save a document under a new name. This is important to do when you intend to edit or revise a document because you may want to keep the original.
A change in view
Word processing requires you to stare at a computer screen for long periods of time. In order to alleviate the strain on your eyes, Word provides four different ways Word elements are displayed. The four views are Normal view, Print Layout view, Web Layout view, and Outline view.
Normal view is used for most typing, editing, and formatting. It provides a nice, clean look without rulers or page numbers cluttering your view.
Web Layout view shows what your text will look like on a webpage.
Print Layout view shows what your document will look like when it is printed. Print Preview shows you this as well.
Outline view is used to create and edit outlines. This view is particularly handy when making notes.
To change your document view:
Choose Viewclick the view of your choice.



OR
Click one of the four buttons at the bottom-left of your Word window.


Challenge!
Start Word.
Create a new document.
Type the following: "This exercise helped me learn how to open existing Word documents."
Save your document using any name you want.
Close the document without exiting Word.
Open the document you just created.
Continue
/en/word2000/using-the-insertion-point/content/