Lesson 14: Printer Problems and a "Frozen Computer"
/en/windows98/using-help/content/
Introduction
By the end of this lesson, you should be able to:
Resolve common printer problems
Deal with a "frozen" computer
Having trouble printing it?
Perhaps you've written a great report and you want to share it with your boss. The problem is, you can't print it. Try these troubleshooting techniques:
Take care of the basics. Make sure the printer is plugged in, turned on, and has paper in it.
Make sure the printer cable is properly connected to the printer and to the computer.
Check to see if there is a paper jam. Most printers have a flashing light to indicate a jam. If the paper size selected differs from the one in the paper tray, you will not be able to print. To choose a paper size, select FilePage Setup. Click the Paper Size tab.
Check to see that the printer toner, cartridge, and ribbon are fresh and adequate. If not, printed documents may appear streaky, blotchy, or even blank.
Make sure the printer is switched to Online mode. There is usually a button on your printer's control panel. If it is switched to Offline mode, it will not print.
Make sure the computer knows which printer you are using. Check this by clicking StartSettingsPrinters. If an icon for your printer doesn't appear, try restarting your computer. This is often an easy fix to this somewhat common Windows 98 error. If your printer still doesn't appear, you may need to add it. Click Add Printer, then follow the instructions.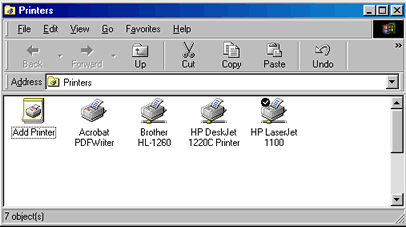 Note: If your printer isn't in the Windows 98 list, which usually displays when you try to add a new printer, you may have to contact the printer manufacturer for a driver. When you get the driver, follow the Add Printer instructions on your computer.
More printer troubleshooting tips
Because so many issues can affect your printer, you should also consider these problem-solving tips:
If you work in an office environment where several people share a printer, there may be a network problem. Contact your network support person.
If you can find the manual for your printer, read it to see if you can find a solution to the problem.
If your printer still doesn't work, go to Help on the Start menu. Click the Index tab. Scroll down the list and type printers, troubleshooting in the search box. Click to open the Windows 98 Printer Troubleshooter. Answer the questions, and follow the instructions so the computer can help you figure out what's wrong.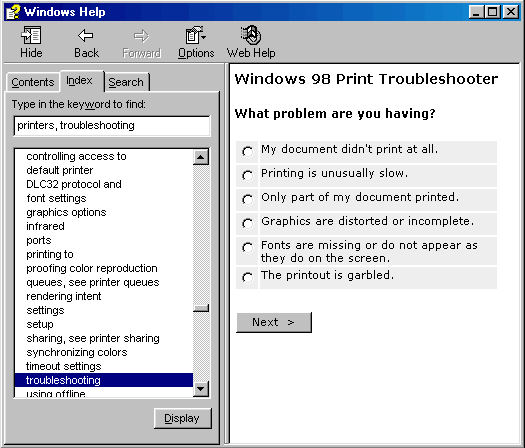 Dealing with a "frozen computer"
Let's say you're working in an application and suddenly your machine doesn't respond to a click of the mouse. What's the problem? Your computer is "frozen".
It may even freeze as you're starting Windows 98 and may not complete the start process.
If your computer freezes, try waiting it out. Sometimes it may just take the computer a while to work through an operation.
OR
Try pressing the Esc key on your keyboard.
OR
You may have to restart your computer by holding down the Ctrl, Alt, and Delete keys on your keyboard. A dialog box appears with the warning: Pressing CTRL+ALT+DEL again will restart your computer. You will lose unsaved information in all programs that are running. (This is why it's so important to constantly save information you're working on.)

If you feel you have no choice but to restart the system, hold down the Ctrl, Alt, and Delete keys. Windows 98 will go through the restart process, and you should regain control of your computer.
Continue
/en/windows98/accessibility-wizard/content/