Lesson 11: Streaming Music Services
/en/using-the-web-to-get-stuff-done/how-to-find-recipes-online/content/
Streaming music services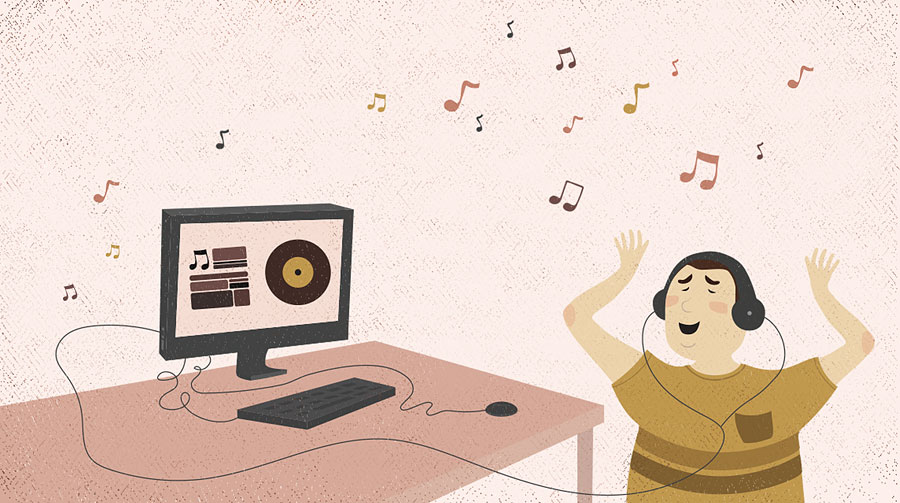 It can get pretty expensive to buy music you'd like to listen to, whether it be online or at a store. Luckily, there are plenty of options when it comes to streaming music services. They can give you access to a wide range of music without having to download any songs or albums. Some of them are completely free to use, while others charge a monthly subscription fee. In this lesson, we'll go over the features of several popular streaming music services.
Pandora
(Free; $4.99 per month for Pandora One)
Pandora is a streaming radio service that lets you create radio stations based on a specific song, artist, or genre of your choosing. Pandora generates musically similar stations based on your input. The free version of Pandora contains advertisements in between tracks and only allows you to skip six songs per hour. However, you can pay $4.99 per month for a version called Pandora One that is free of ads and that gives you more skips daily (but still only six skips per hour).
Spotify
(Free; $9.99 per month for Spotify Premium)
Spotify is another popular streaming music service that gives you more control over your listening experience. It's also worth noting that Spotify has a much larger catalog of content than Pandora. There are two versions available: a basic version, which is free; and Spotify Premium, which costs $9.99 per month.
The free version's features vary depending on which device you're using. If you're using it on a computer, you can choose any song or album you want and can listen to it in its entirety with ads. If you're using the free version on a mobile device, you can only shuffle songs and listen to radio stations based on artists, songs, or genres.
If you pay for Spotify Premium, you can listen to any song you want on both computer and mobile platforms ad-free. You can also create your own customized playlists to listen to, and Spotify even creates a weekly playlist of songs you might enjoy based on what you listen to.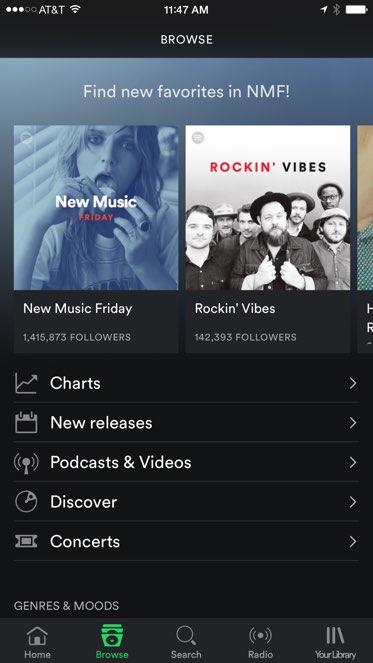 Apple Music
($9.99 per month)

Apple Music is a newer streaming music service released by Apple. Unlike Pandora and Spotify, Apple Music does not have a free version and is only available for a subscription fee of $9.99 per month. Aside from this, there are many similarities between Apple Music and Spotify. Both have comparable catalog sizes, but Apple Music has several artists who are exclusive to Apple Music. Apple Music also has a 24-hour live radio station in addition to personalized playlists and stations generated from specific artists and genres.
iHeartRadio
(Free)
iHeartRadio offers free access to hundreds of live radio stations, as well as customized ad-free radio stations generated from an artist, song, or genre of your choosing. It's great for tuning in to your favorite radio shows and discovering new artists, but it's important to note that you can't pause or rewind while listening. Also, iHeartRadio is currently only available in North America, Australia, and New Zealand.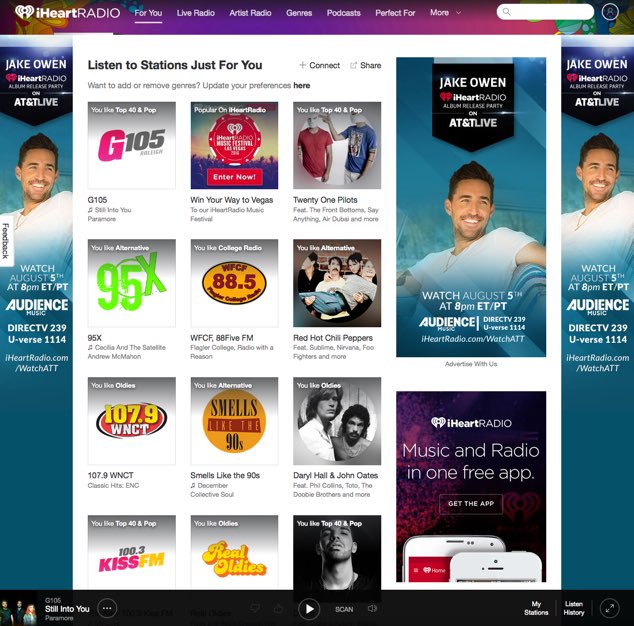 Which service should you choose?
Each service has its advantages and disadvantages, so it comes down to your own needs and personal preferences. If there are artists you know and love, you may want to try Apple Music and Spotify so you can choose specific songs and albums. If you're looking for new music, Pandora and iHeartRadio might be better options. There's also the factor of whether you want to pay for services. There's no right or wrong answer; it's all up to you.

Continue
/en/using-the-web-to-get-stuff-done/streaming-video-services/content/