Lesson 15: How to Download Free Audiobooks
/en/using-the-web-to-get-stuff-done/what-is-a-podcast/content/
How to download free audiobooks
Audiobooks can be a great alternative to reading traditional books. Because audiobooks only require you to listen, your eyes and hands are free, allowing you to multitask. They give you the flexibility to enjoy books while you drive, exercise, cook, or perform any number of activities that normally won't allow you to read at the same time.
While most sites will charge you either for each title you download or for a monthly subscription, there are many sites that allow you to download or stream entire audiobooks for free.
Part of the reason these websites are able to make all of these audiobooks available for free is because the books recorded are in the public domain, meaning a majority of them were published before 1923. For this reason, you'll notice that the free audio versions of books on these sites tend to be much older, with a few exceptions. So if you're looking for the audio version of this year's bestselling novel, you'll probably have to pay to download it.
Let's take a look at a few of the most popular sites for free audiobooks.
LibriVox
LibriVox allows you to listen to audiobooks on your computer, iPod, or mobile device. What makes LibriVox unique is that all of the books you'll find on this site have been read and recorded by volunteers.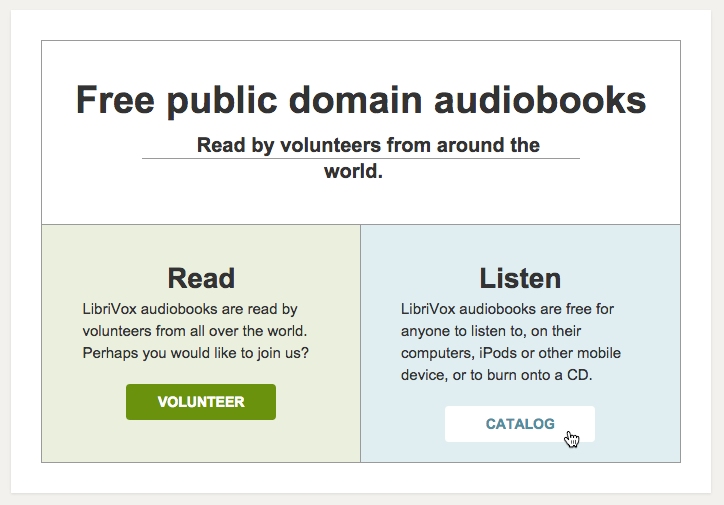 Because LibriVox features narration by such a variety of people, you may find that some books are easier to listen to than others, depending on each narrator's pace, tone of voice, and accent. For this reason, it's a good idea to listen to a sample first to decide if you'll want to listen to the entire book.
You can browse selections by author, title, genre, and language. Once you find something you're interested in, just click the link.

You can begin listening to the book directly from the site by clicking the Play button next to the chapter, or you can download it to your computer by clicking the Download button.

OpenCulture
OpenCulture is another site that features hundreds of free audiobooks—primarily classics—that you can download to your mobile device or computer.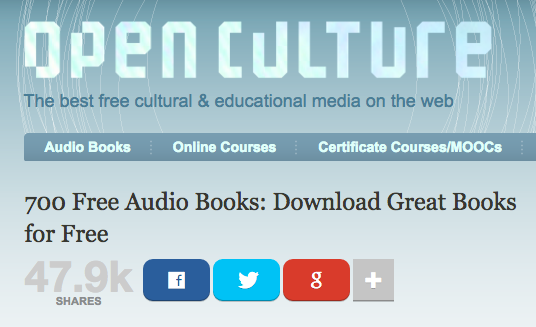 Books are listed by author in alphabetical order. To the right of each title, you'll see one or more links that will give you a few options for streaming or downloading.

Because everything on OpenCulture is curated from other resources, you'll notice that some of the links will connect you to other sites, like Audible and YouTube.
OpenCulture also offers a variety of free resources other than audiobooks. There are online courses, movies, language lessons, e-books, textbooks, music, and a lot more.
Project Gutenberg
Project Gutenberg is a site where you'll find what is probably the largest collection of audiobooks on the Web.

To see the list of audiobooks available, start by clicking the Browse Catalog link at the top of the page. There, you'll see that in the Special Categories section there are two links to its list of audiobooks. The audiobooks are separated into two groups: computer-generated narration and human-read narration.

Computer-generated option is unique, and you can listen to it if you're curious to hear it. However, because it sounds so robotic, most people probably won't enjoy listening to it for more than a few seconds, let alone an entire book. Generally, the human-read narration makes it easier to understand and enjoy the book, so you may want to stick with this category of audiobooks.
When you find a book you'd like to listen to, just click the title. You'll see that recordings are available in different formats. If you click each format, you'll notice that sound quality differs slightly with each one. Other than that, no matter which format you choose you'll hear the same book and the same narrator.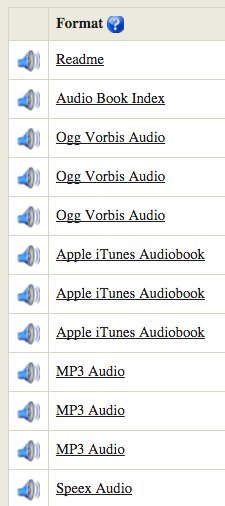 Unfortunately, at this time it's not possible to download audiobooks to your computer from Project Gutenberg, so you'll need to stream them from the site. But if you access the site from your smartphone or tablet, you'll still be able to enjoy these audiobooks while you're away from your computer.
Whether you're looking for a new way to enjoy a book or are just curious to see what listening to an audiobook is like, these free resources are a great way to get started!

Continue
/en/using-the-web-to-get-stuff-done/using-opentablecom/content/