Lesson 15: Creating a Blank Publication
/en/publisher2003/page-setup-and-print-setup-options/content/
Introduction
By the end of this module, you should be able to:
Create a new blank publication
Apply a page layout to a blank publication
Creating a blank publication
Watch the video! (5:58 min)
Publisher provides several options when you want to move beyond the predesigned templates and create your own publication designs. You can create a document completely on your own without any design assistance, or you can use the designs and layouts provided to enhance your ideas.
To create a blank publication:
Select FileNew on the main menu to show the New Publication task pane.
Click Blank Publications to preview the different types available.
Select a publication by clicking its preview icon to the right of the task pane.
Customize your blank publication by inserting the pictures, shapes, and text you want.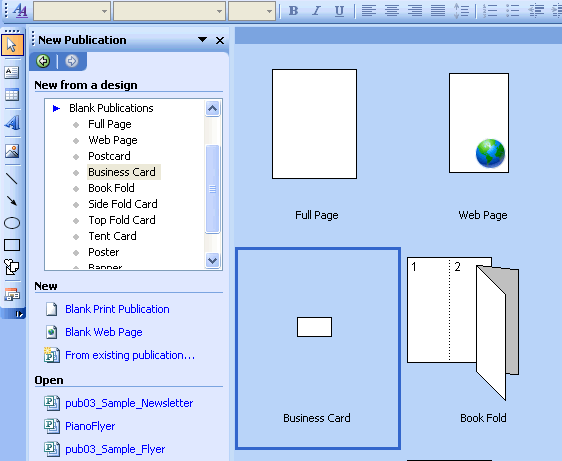 With a blank publication you can do anything you want. It's up to you!
Selecting a page layout
If you don't want to start with a completely blank document, Publisher can help you with various page layout options.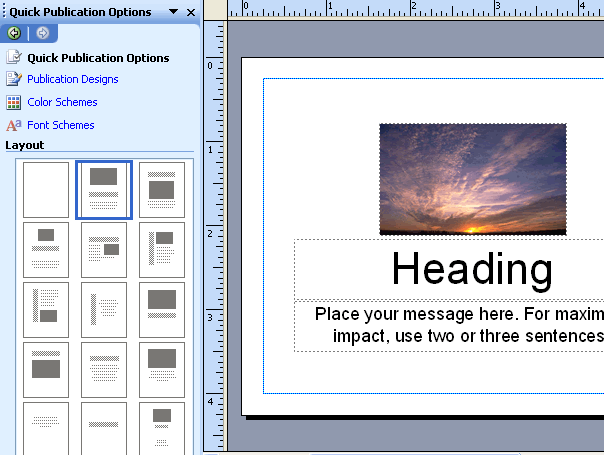 Select Quick Publication Options in the task pane. A list of page Layout designs will appear.
Click the different layout designs to preview them in your document.
Enter your own text into the publication once you find a layout you want to use. If you decide to select a different layout, the text you enter will appear in the new layout.
Challenge!
For the next set of challenges, you will want to use your own document.
Create a new blank publication of your choice.
Explore the different layout options, or start with your own design.
Insert at least one image or piece of clip art into your document.
Save and close your publication to use in the next challenge.
Continue
/en/publisher2003/adding-text-boxes-/content/