Lesson 16: PowerPoint XP Task Pane
/en/powerpointxp/adding-transition/content/
The PowerPoint XP task pane replaces the dialog boxes used in PowerPoint 2000. The down-pointing arrow in the top-right corner of the pane allows you to select different menus and tools. By default, the task pane appears when PowerPoint XP is launched.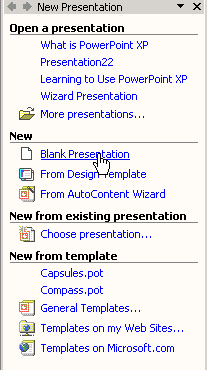 The Slide Layout and Slide Design panes within the task pane help organize layouts, design templates, and color schemes. When you select a design option, your slides are quickly updated with the new look.
If you do not see the task pane on the right side of the PowerPoint window, you can easily access it. You can hide or view the task pane by clicking View

Task Pane.
In the gray bar at the top of the task pane, small backward and forward buttons appear on the left, and a down-pointing arrow appears on the right.
To view different panes, click the down-pointing arrow and select different panes. Once you open different panes, you can move through them by clicking the backward and forward arrow buttons on the left.

To close the task pane, click the X on the right corner of the bar.

To learn more about PowerPoint XP's task pane, visit our PowerPoint XP tutorial.
Continue
/en/powerpointxp/powerpoint-xp-features-multiple-views/content/