Lesson 17: Getting Help Using the Office Assistant in Office XP
/en/officexpbasics/document-recovery/content/
When working in an Office XP program, you may have questions. Fortunately, Office XP provides several ways to get the answers you need. The Office Assistant is one of the most commonly used ways to access Help.
The Office Assistant, or Clippy, looks like a cartoon paperclip. It answers questions about Office XP programs.

To display the Office Assistant:
If the Office Assistant doesn't show up on your screen by default, choose HelpShow the Office Assistant (F1).
OR
Click the Help button on the Standard toolbar.
To use the Office Assistant:
Click the Office Assistant.
Type your question in the dialog box, and click Search.
Choose one of its helpful suggestions.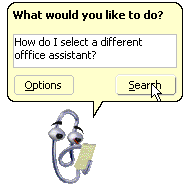 THEN
Choose a helpful suggestion or click See More...
When you click a helpful suggestion or search button, a Help window pops up on the right side of the screen, listing topics related to your question.
Click a subtopic that you hope will give you the answer you want.
Click the close button in the upper-right corner to close the Help window.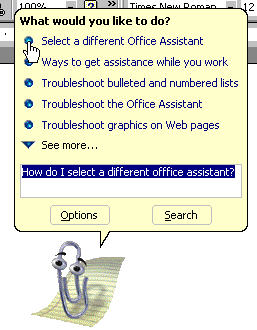 If the Office Assistant is crowding your workspace:
Click and drag it to a new location on the screen.
OR
Right-click the Office Assistant and choose Hide.

To learn more about Help options in Office XP, check out our Office XP tutorial.
Continue
/en/officexpbasics/recovering-lost-work-in-office-xp/content/