Lesson 1: All About Your Microsoft Account
Introduction
Microsoft is best known for its popular software packages: Microsoft Windows and Microsoft Office. But today, Microsoft also provides many free online services you can use to perform various tasks at home or at work. To use these services, including OneDrive or Skype, you'll need to create a Microsoft account.
In this lesson, you'll learn more about the features and benefits of a Microsoft account. We'll also talk about the various tools and services a Microsoft account provides, including Calendar, Office Web Apps, and more.
What is a Microsoft account?
A Microsoft account gives you access to a wide range of services and tools. These include:
Productivity tools that let you create, store, and edit documents, videos, images, and other files
Social tools that let you communicate via email and chat, as well as share and collaborate on files stored online

A Microsoft account can help you accomplish most everyday computer tasks, much like the Windows operating system. The difference between these services and more traditional productivity suites is that many of the files and services you work with are stored online rather than on your computer. This type of online storage is commonly referred to as the cloud.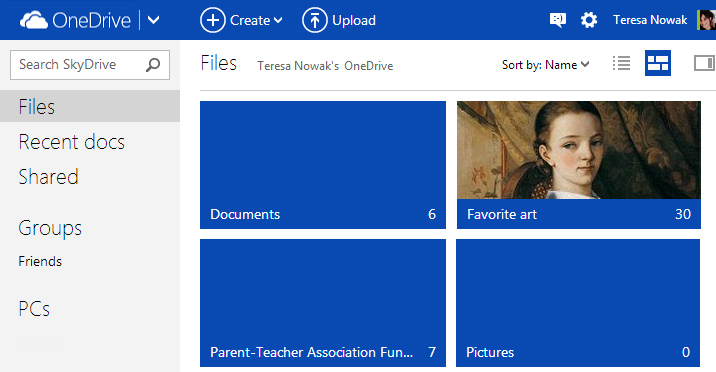 Storing files on the cloud with a Microsoft account
Check out our lesson on Web Apps and the Cloud to learn more about the basics of cloud computing.
To use these services, you'll need a Microsoft account. Every piece of information you create with Microsoft tools—from contact lists in Outlook and Skype to an Office document stored in the cloud—is connected with your Microsoft account. No matter how many of these services you use, you only need one account to access them.
If you use Microsoft services like Outlook or Skype, you already have a Microsoft account—otherwise, you'll have to create a free Microsoft account (check out our lesson on Creating a Microsoft Account to learn more).
Why get a Microsoft account?
Cloud-based services like a Microsoft account allow you to access, edit, and share files from anywhere with an Internet connection. As these services become increasingly popular at home and the office, understanding how they work is becoming an essential part of computer and Internet literacy.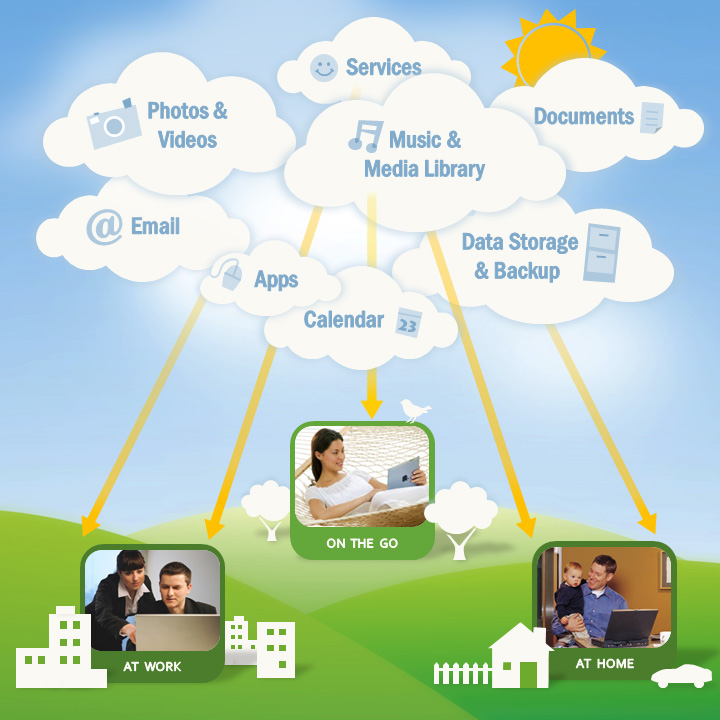 The cloud
A Microsoft account is only one example of cloud-based services. Other popular services include Google accounts and Apple's iCloud. So how do you choose which service to use? In many ways, these services are so similar that you could choose one at random and still find it useful. All offer basic tools like file storage, email, and chat.
That said, if you already use Microsoft tools like Microsoft Office, Outlook, Hotmail, or Skype, you might find a Microsoft account easier to use than other services. Its document creation, sharing, and storage features were all designed to work well with existing Microsoft programs and tools. A Microsoft account even gives you access to a web-based version of Microsoft Office, called Office Online (previously known as Office Web Apps). Office Online is similar to the desktop versions of Word, PowerPoint, and Excel, which makes it easy to use—especially if you're already comfortable working with these applications.
Microsoft account features
Once you have a Microsoft account, you can access all of Microsoft's online services. This includes several core services and tools, like OneDrive (previously called SkyDrive), Office Online, and Outlook.com.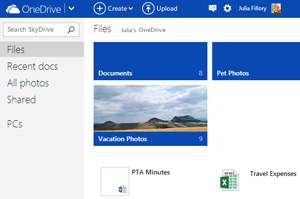 OneDrive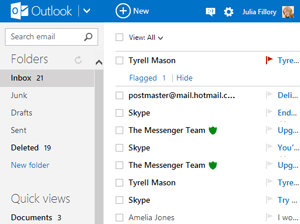 Outlook.com
OneDrive and Office Online
OneDrive is a cloud-based storage system you can use as your own personal online hard drive, with 7GB of free space. OneDrive is also integrated with Office Online, a free web-based version of popular Microsoft Office programs you can use to create basic Word documents, Excel workbooks, PowerPoint presentations, and more.
Outlook.com, Calendar, and Messenger
A free email service, Outlook.com makes it easy to send and receive email from anywhere. From there, you'll also be able to use Microsoft's other online services, including Calendar, which allows you to schedule appointments; and Messenger, which allows you to send instant messages to your contacts.
Windows Essentials
This is a suite of desktop applications you can download to your computer. Popular programs include the desktop version of OneDrive, which makes it easy to back up files from your computer; Family Safety, which lets you set parental controls for specific users; Movie Maker; and Photo Gallery. You don't necessarily need a Microsoft account to use these programs.
Visit the Windows Essentials page to download and install Windows Essentials.

Continue
/en/microsoftaccount/creating-a-microsoft-account/content/