Lesson 4: Attending Meetup Events
/en/meetup/joining-a-meetup-group/content/
Attending Meetup events
Once you've joined a Meetup group, you'll have access to its entire calendar of upcoming events. Some Meetup groups have weekly recurring events, while others only meet occasionally.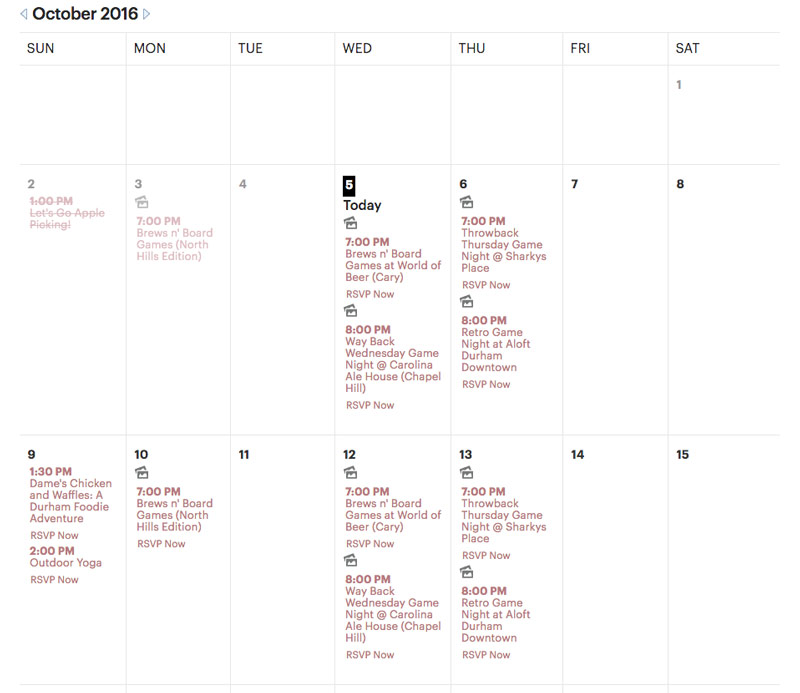 To RSVP to events:
If you see an event you're interested in, it's a good idea RSVP to it. Not only will Meetup add it to your calendar, but it will also give the organizers a better idea of how many people will be attending.
Some Meetup groups have an RSVP policy, which means if you RSVP as attending but don't attend you may be marked as a no-show. Some groups may remove you if you have too many no-shows over a certain period of time.
Once you've found an event you'd like to attend, click the event title to view its page.

On the event page, click the Yes button under where it reads Are you going? in the pane on the right side.

A pop-up will appear asking if you're bringing guests. Select the option that applies, then click Finish RSVP.

A confirmation pop-up will appear, and you will have successfully RSVP'd.

If you need to change your RSVP, you can always click the Change button located on the right-side pane of the event where the initial RSVP button was.
To view your upcoming events:
Once you've RSVP'd to events, you'll receive reminders via email for each of them. In addition to this, you can access your calendar on Meetup's website.
On the Meetup homepage, it should be set to display Calendar instead of Groups. If it's not, click the Calendar button on the right side of the screen.

A list of events will appear below. In order to view only the events you've RSVP'd to, you'll need to select the I'm going filter from the menu on the right side of the page.

A list of all of the events you plan on attending will appear to the right. You can click any of them to bring up the corresponding event page.
You're all set!
Now that you know the basics of Meetup, you're ready to give it a shot. Try exploring some groups of interest and attending an event in your area!