Creating an Apple ID
If you've ever bought music from the iTunes Store or if you've purchased an iOS device, you were probably asked to create an Apple ID. The Apple ID is an account you can use to access all of Apple's services. You can use it to buy music, TV shows, and apps from the iTunes Store, or you can buy apps for your Mac from the Mac App Store. You'll also need an Apple ID in order to use iCloud.
If you don't have an Apple ID, you can follow the steps below to set it up.
To create an Apple ID:
Go to the My Apple ID page and click Create an Apple ID.

The Apple ID page

Type your email address. This will be used as your Apple ID. You will also need to choose a password.

Typing an email address and password

Continue filling out the form with your security question, name, address, and other info.

Typing a name and address

If you do not want to receive emails from Apple, uncheck the check boxes under Contact Preferences.

Contact Preferences

Type the letters and/or numbers you see in the verification image. Then check the box stating that you have read and agree to the Terms of Service and Privacy Policy.

The verification image and Terms of Service check box

Click Create Apple ID. Apple will then send you a verification email. You will need to sign in to your email and follow the directions in the verification email to complete your registration.

Creating an Apple ID
Providing payment information
When you create an Apple ID with a web browser, it won't ask for any payment information. This is because many Apple services (such as iCloud) do not require payment. However, when you sign in to the iTunes Store or the Mac App Store, you will be asked to review your account information. You will then need to provide a credit card number and billing address.

Reviewing account information
You can also create an Apple ID in iTunes or the Mac App Store by going to Store > Create Account. When you do this, you will need to provide your payment information during the registration process.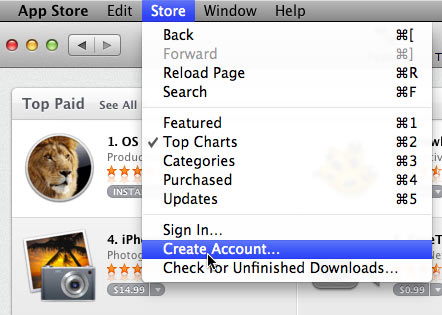 Creating an Apple ID in the Mac App Store