Lesson 5: Changing Your Computer's Settings
/en/macosxmountainlion/the-dock-launchpad-and-mission-control/content/
Changing your computer's settings
At some point, you'll probably need to change some of the settings on your computer. OS X Mountain Lion makes this as easy as possible by putting almost all of the settings in one place: the System Preferences window. In this lesson, we'll give an overview of the System Preferences window, and we'll show you how to create multiple accounts on your computer and adjust the Notifications settings.
To open System Preferences:
Click the Apple icon in the top-left corner of the screen, then select System Preferences.




Going to System Preferences

The System Preferences window will open. You can then select the desired category to change settings.




The System Preferences Window
You can also open System Preferences from the Dock or Launchpad.
Opening System Preferences from the Dock
Click the buttons in the interactive below to learn about some of the settings you can change in System Preferences.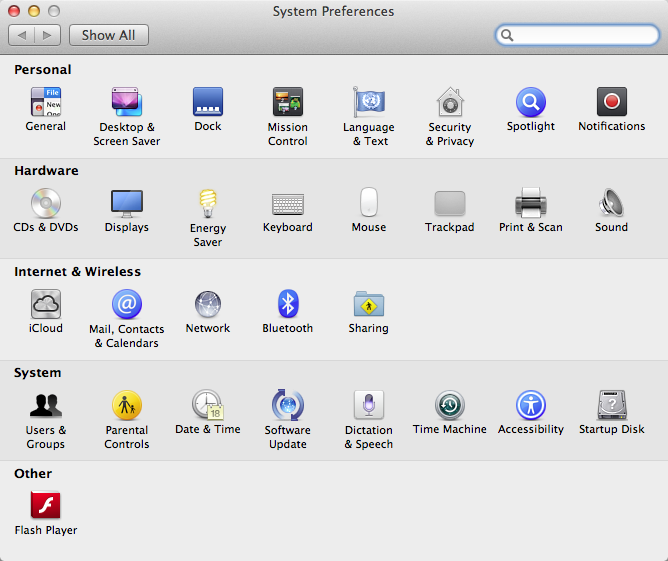 Parental Controls
Here you can set restrictions on which websites your children can visit, set time limits, and more. You will first need to create a Managed account (in the Users & Group settings) in order to use parental controls.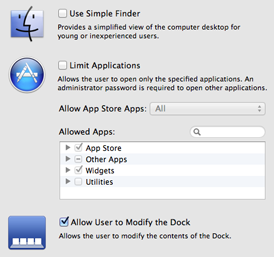 Users & Groups
The Users & Groups settings allow you to manage all of the user accounts on your computer, as well as create new accounts.
In older versions of OS X (pre-Lion), these options are found in the Accounts settings.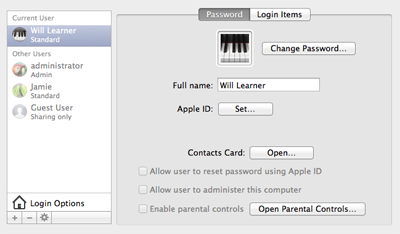 Network
This is where you'll go to change your internet settings or set up a new internet connection. Many of the settings are more advanced, so you should avoid changing them unless you are experienced with computers.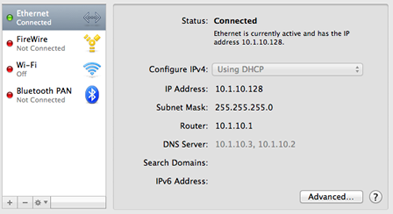 Mouse
Here you can enable right-clicking or turn natural scrolling on or off. If you are using a trackpad or Magic Mouse, you can also control which multi-touch gestures are enabled.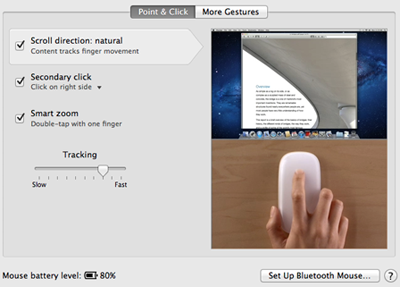 Energy Saver
With Energy Saver, you can tell your Mac to automatically go to sleep after a specified amount of time. This can help you save electricity or improve your laptop's battery life.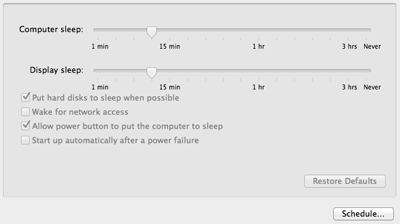 Notifications
Here you can tell OS X which apps will receive alerts in the Notification Center. You can also adjust the alert settings to play a sound or show a banner when an alert is received.
Notifications were introduced in OS X Mountain Lion, and are not available in earlier versions of OS X.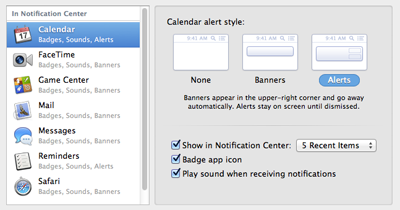 Desktop & Screen Saver
You can go here to change your desktop background and screen saver. You can also set up a hot corner that will trigger the screen saver.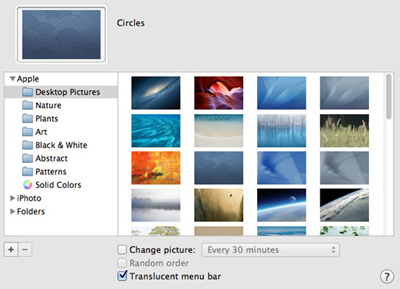 Accessibility
Accessibility (previously known as Universal Access) includes many different tools to make OS X more accessible to users with disabilities. These tools include VoiceOver, which allows you to have full control of your computer without seeing the screen. Also, for users who have difficulty using a mouse, the keyboard can be set to control the mouse pointer.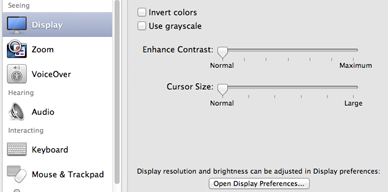 Time Machine
Time Machine can automatically back up your files and settings in case something happens to your computer. You will generally need to have an external hard drive in order to use Time Machine.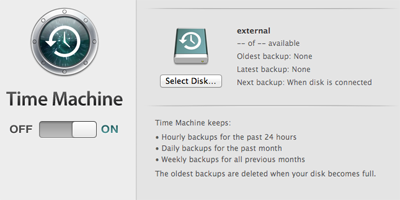 App Store
The App Store can automatically check for OS X and app updates. You can also go here to automatically download apps purchased on another Mac or to see when the last update occurred.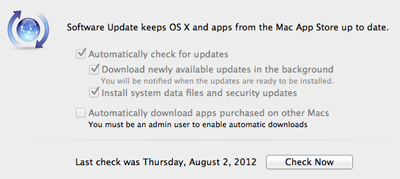 Other Preferences
Some apps will automatically install preference panes at the bottom of the System Preferences window. You can use these to adjust various settings for those apps.
App preferences
In addition to changing your computer's settings, you can change the settings for your apps. This allows you to customize the way your apps behave and control the features that are important to you.
To access the settings for any app, open the app first. Then click the app name in the upper-left corner of the menu bar and choose Preferences from the menu.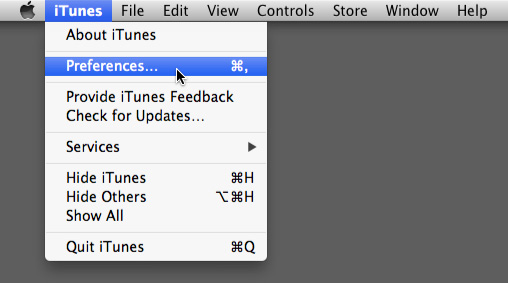 Accessing the app's preferences
Creating additional accounts
If multiple people are going to be using your computer, you'll need to decide whether everyone will share an account, or whether each person will have his or her own account. Having a separate account for each person has some advantages. For example, all users will have their own desktops they can personalize. In addition, parents will be able to set parental controls for each child's account.
Administrator, Standard, and Managed accounts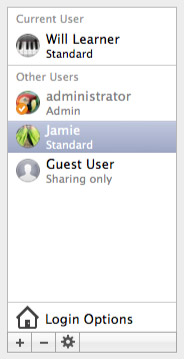 Multiple accounts
Before you start making new user accounts, it's important to understand the different types:
Administrator: Administrator accounts are special accounts that are used for making changes to system settings or managing other people's accounts. They have full access to every setting on the computer. Every computer will have at least one Administrator account, and if you're the owner you should already have a password to this account.
Standard: Standard accounts are the basic accounts you use for normal, everyday tasks. As a Standard user, you can do just about anything you would need to do, such as running software or personalizing your desktop.
Managed with Parental Controls: Managed accounts are the only type that can have parental controls. You can create a Managed account for each child, and then go to the Parental Controls settings in your System Preferences to set website restrictions, time limits, and more. You can also convert a Standard account into a Managed account by enabling parental controls.
Generally, it's safer to be logged in to a Standard account instead of an Administrator account. If you're logged in as an Administrator, it may actually make it easier for an unauthorized user to make changes to your computer. Therefore, you may want to create a Standard account for yourself, even if you're not sharing the computer with anyone. You'll still be able to make Administrator-level changes; you'll just need to provide your Administrator password when making the changes.
To create a new account:
From System Preferences, select Users & Groups.




Selecting the Users & Groups settings

Locate the Lock icon in the lower-left corner of the window. It will either be open or closed.




The Lock icon

If the Lock icon is closed, you will need to click it and type your password in order to make changes. Then click Unlock.




Typing a password to unlock the settings

Click the button with the plus sign (+) to begin creating a new account.




Creating a new account

Choose the account type from the drop-down menu.




Selecting an account type

Type a Full Name and Password for the new account (the Account name will appear automatically). In the Verify field, type the password again. If you want, you can type a Password hint to help you remember it. When you are done, click Create User.




Typing the name, password, and hint for the new account

If you want, you can click on the account picture and select a different picture. Then click Done to switch to the new image.




Selecting a new account picture
To switch to a different account:
Click the Apple icon, then select Log Out.




Logging out

You will see an icon for each account. Select the account that you want to use.




Selecting an account

Type the account password and press the Return key (or Enter key) to log in to the account.




Typing the account password
Changing your Notifications settings
The Notification Center is a great feature for keeping you up-to-date. However, when you first begin working with OS X Mountain Lion, you might receive alerts and banners you may not be interested in. You can modify the Notifications settings to select the apps you wish to receive alerts for, as well as how you wish to be alerted.
To change Notifications settings:
Open the System Preferences window and click Notifications.




Opening Notifications settings

The Notifications window will appear. In the Notification Center pane, select the app you wish to modify.




Selecting an app to modify

Select the alert style option you wish to apply to the app.

None: No alert will be displayed for the selected app.
Banner: When an alert is received for the selected app, a small banner will appear in the upper-right corner of the screen and will disappear automatically.
Alerts: When an alert is received for the selected app, a small window will appear on your screen and will remain on the screen until you close it.

Alert style

Select the alert settings options you wish to apply to the app.

Show in Notification Center: This setting will adjust how many alerts display in the Notification Center for the selected app. If you deselect the box, the Notification Center will not display alerts for that app.
Badge app icon: This setting displays a badge (a small number) on the selected app's Dock icon each time it has an alert. The badge indicates how many alerts have been received.
Play sound when receiving notifications: This option will play a sound when you've received an alert for the selected app. Deselect the box if you wish to turn off alert sounds.

Deselecting sound alerts
Continue
/en/macosxmountainlion/syncing-with-icloud/content/