Lesson 2: GED Alternatives
/en/ged-prep-resources/ged-prep-resources/content/
GED alternatives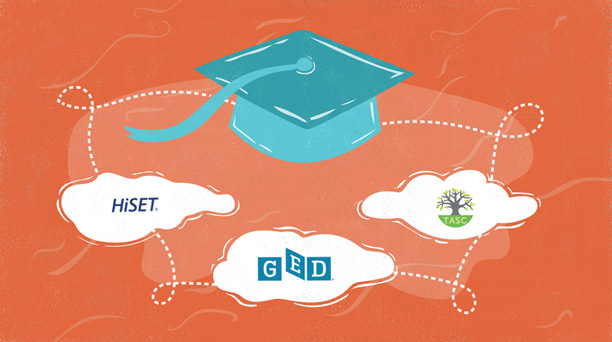 For years, the GED was the only testing option for earning a high school diploma equivalent. But in 2014, two new alternatives were introduced: the TASC (Test Assessing Secondary Completion) and the HiSET (High School Equivalency Test). Both of these tests provide an official high school equivalency diploma upon passing them, making them legitimate substitutes for the GED.
Since their introduction, many states have chosen to offer these tests alongside the GED, allowing their residents to choose which one they'd like to take. However, some states have adopted one or both as replacements, and no longer offer the GED. To see which tests your state offers, you'll need to check the corresponding sites of the GED, the TASC, and the HiSET.
If your state offers multiple tests, you'll want to do some research to see which test is the best match for you. Let's take a look at how these tests compare.

Availability
The TASC and HiSET tests are only offered in a select number of states. This is because each state individually determines which tests they want to offer their residents. However, the credentials are still portable; once you've passed a test, it will be recognized in any state, even if that particular state doesn't offer the test. To see if your state offers these tests, you'll need to check the requirement pages on the TASC and HiSET websites.
Format and content
While the GED is only available as a computer-based test, the TASC and HiSET tests have both computer-based and paper-based tests. So if you're not particularly computer savvy or if you're not great with keyboards, you might favor taking a paper-based test instead.
The TASC and HiSET tests are also comprised of slightly different content. They feature separate reading and writing sections instead of one general language arts subject, like the GED. Other than that, a majority of the content covered is the same.
Cost
Additionally, the TASC and HiSET tests are cheaper than the GED in most cases. Their cost also covers two free retakes, a feature that isn't always included with the GED. In order to determine the test pricing for your area, you'll need to contact your local test center. You can find this information on the TASC and HiSET websites.
There's a lot to research and read about these three tests, but it's all pretty important information to consider. Once you feel confident you've found the best match, you'll be ready to start studying. Good luck!