Lesson 3: Two Ways to Use the Format Painter
/en/excel-tips/a-faster-way-to-use-the-fill-handle/content/
Two ways to use the Format Painter
The Format Painter offers a quick way to copy all of the formatting from one cell to another. This can help keep things consistent without spending a lot of time replicating the formatting in each cell.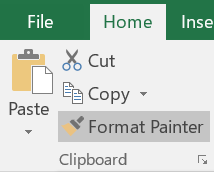 There are two ways to use the Format Painter: (1) single-clicking it to copy the formatting from the selected cell, then clicking a different cell to paste the formatting; and (2) double-clicking it if you want to copy the formatting to several non-adjacent cells.
Watch the video below to learn how to use the Format Painter.
Steps
Open your Excel spreadsheet and locate the cell with the formatting that you want to copy.
Click on the cell to select it.
Move your mouse pointer to the Home tab and locate the Format Painter command. It is represented by a paintbrush icon.
Click the Format Painter command once. This will activate the Format Painter tool.
Click and drag your mouse pointer over the cells that you want to apply the formatting to.
Alternatively, you can double-click the Format Painter command to lock it on, and then click on each cell individually to apply the formatting.
Once you have applied the formatting to all the desired cells, click the Format Painter command again to turn it off.
Many people find this particular tool in Excel to be helpful when it comes to making their formatting look neat and professional. Read on for a shortcut to AutoSum.

Continue
/en/excel-tips/a-shortcut-to-autosum/content/