Lesson 9: Technology for Your Day-to-Day
/en/entrepreneurship-101/building-your-brand/content/
Technology for your day-to-day
In today's world, technology isn't something you can compromise on. We've talked about digital marketing channels and the importance of building a website. Visibility—or getting your business noticed—is a key part of attracting new customers.

How else can you incorporate technology into your business model? The first step is assessing your company's needs. Think about how you can make your daily operations run more smoothly.
Here is a chart with aspects of the business you might want to focus on, along with some relevant online platforms and software you could check out: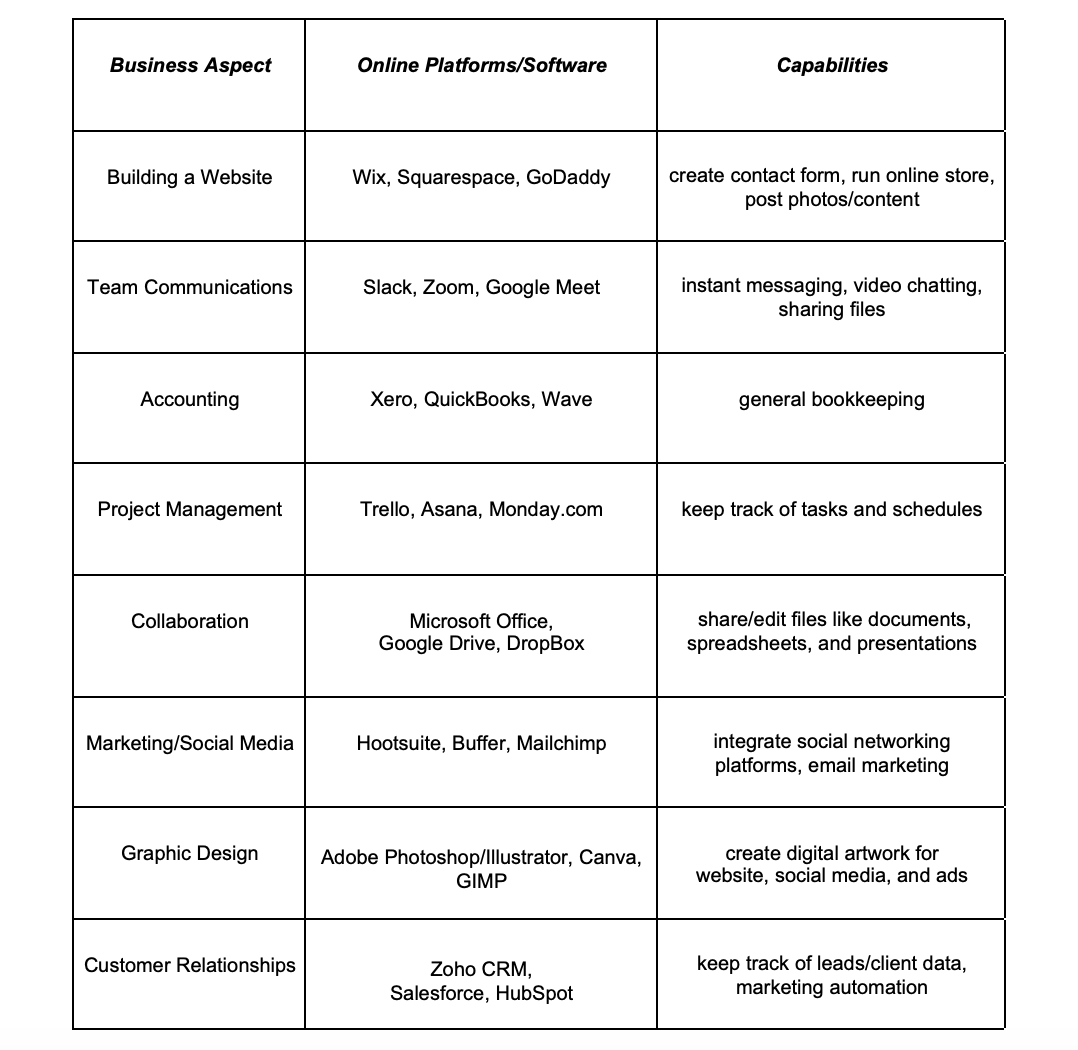 These are just some examples, as there are many, many online platforms and types of software designed for businesses. 
Selecting tech for your team
Keep it simple.

Every business is unique; while a competitor might have an entirely different approach as to what technology they use, just focus on what works best for your company. And don't run yourself ragged trying to keep up with social media! Remember—a webmaster or tech-savvy employee can help you with this aspect of the business. 
Invest in training your employees.

Many entrepreneurs are gung-ho about investing in new technology—but they forget about the training that should come with it! 

While some employees can "learn as they go," this isn't the case for everyone. Look for helpful videos which demonstrate how to use these tools, or consider bringing in an expert for professional development.
Make sure you have a backup plan—and the required support.

There will be times when a platform or software gets a bug or shuts down. What will you do if you can't use one of your tools for a day? 

In addition, decide who's in charge of installing and upgrading new technology.

Typically you can troubleshoot problems that pop up by speaking with an associate over the phone, or through a customer service live chat on the platform's website. 
Weighing your options
All too often new entrepreneurs feel the need to make quick decisions about technology. But take some time to weigh your options; doing so will save you time and cash in the long run!
Speaking of cash, let's move on to the next lesson about managing money. We'll talk about how to make wise decisions regarding your company's finances.

Continue
/en/entrepreneurship-101/managing-money/content/