Lesson 6: Business Writing Essentials
/en/business-communication/overcoming-phone-anxiety/content/
Business writing essentials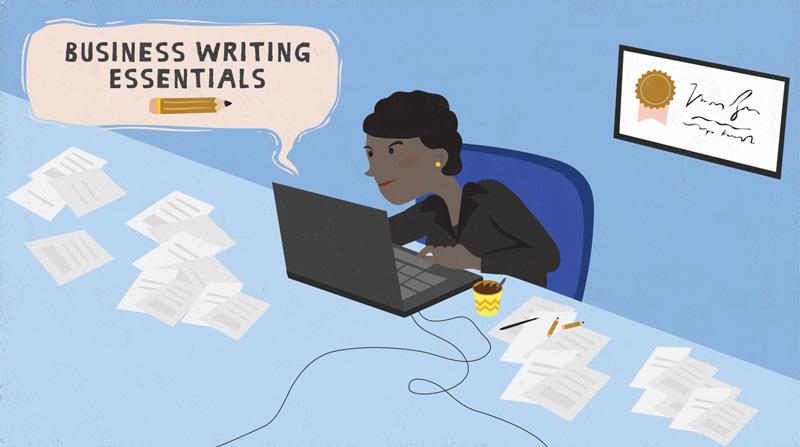 At some point in your professional life, you may need to write something. It's nothing to be intimidated by, though!
Business writing is any written communication used in a professional setting, including emails, memos, and reports. It's direct, clear, and designed to be read quickly. With time and practice, you too can become an effective business writer.
Watch the video below to learn some tips for business writing.
The basics of business writing
Good business writing shares crucial information and keeps the concerns of the audience in mind. So before you write anything, ask yourself these two questions:
What do I need to say?
Who is my audience?
Your answers will influence what and how you write, so take a moment to understand exactly why you're writing. If you can't clearly answer these questions, you'll probably have trouble communicating effectively.
Most business writing needs a call to action, which is information that instructs and encourages a response. Let your readers know what they should do, where to go, and so on. Provide your contact information (such as your phone number or email address) in case anyone has questions. Essentially, make sure everyone knows what their next move should be, like in the following example.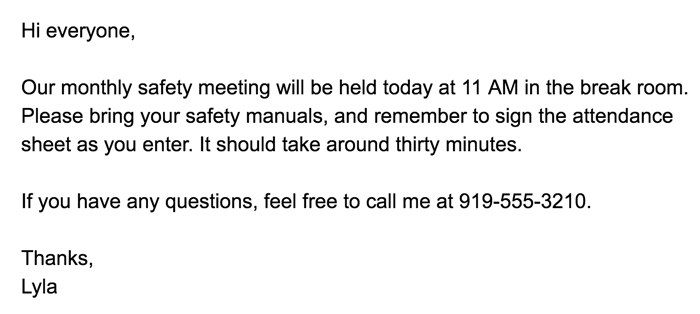 Writing craft
Get to the point quickly. Do you need to tell your employees about a change in work schedules or an update to company policy? Tell them what they should know upfront, and don't leave them guessing.
Make every sentence as short and clear as possible. Simplify your word choices, as you shouldn't use complex words when simple ones will do. Also, cut any rambling thoughts. A company-wide memo about a health insurance change is not the best place to mention your recent fishing trip. In short, always omit needless words.
Although you're in a professional setting, remember to speak to others how you would like to be spoken to. Consider using a brief greeting or conclusion, especially if you're sharing unpleasant news, and remember that saying please and thank you goes a long way. And whenever you're in doubt as to whether something is appropriate to write, don't include it.
Aim to keep your paragraphs brief, as they will add focus to your message while making it easier to scan and remember. The example below is an efficient read, thanks to short paragraphs, clear sentences, and a polite, professional tone.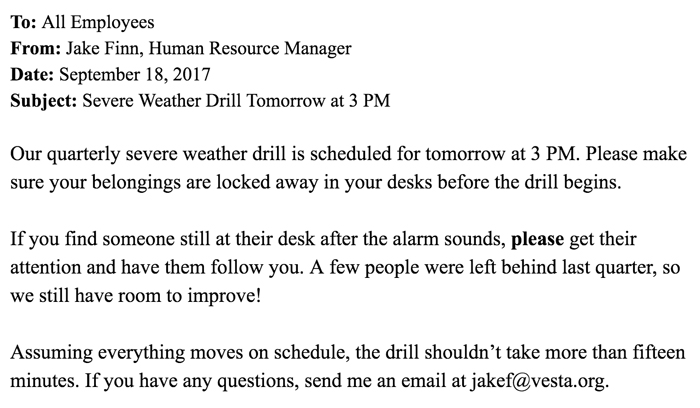 Revision
Good writing comes out of revision, so read over your first draft and figure out what works and what doesn't. Clarify sentences and organize the loose structure until everything flows in a logical order. Don't be surprised if it takes a few revisions until your document is ready to go.
As part of your revision process, try reading your work aloud, which may reveal problems you may not have noticed before. You can also get someone you trust to provide feedback on your work. Hearing their perspective can lead to new insights and issues you never knew were there.
Proofreading is another key part of revision. After you use a spell checker, read over your work again and look for spelling and grammar errors the spell checker may have missed. Also take a moment to ensure the information you're writing about is accurate and up to date. If you submit incorrect information or sloppy writing, you may not be taken seriously. Does the following example look professional?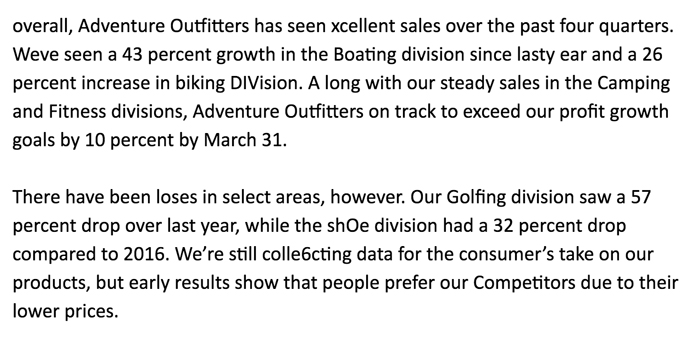 Remember, you won't master business writing overnight. Effective writing is a skill that takes a lot of time and practice to develop. But once you get comfortable with it, you'll possess an incredibly valuable job skill.
Continue
/en/business-communication/how-to-write-a-formal-business-letter/content/