Lesson 7: What is Tumblr?
/en/blogbasics/copyright-and-fair-use/content/
What is Tumblr?
Our Blog Basics tutorial offers advice to guide you through the process of creating your own blog. A big part of starting a blog is choosing a blog service to host your blog. In our lesson on blog services, we discussed a number of options, including Tumblr. Tumblr is a micro-blogging service. This means that blogs on Tumblr are better suited for sharing things like photos, videos, and links than long, text-based posts.
Blogs on Tumblr can seem a little different from blogs hosted on other websites. For one thing, Tumblr contains a lot of images: the Tumblr team says that half of the posts published on the site are photos. According to this Tumblr infographic by Mashable, Tumblr is also a place where people post about humor, fashion, design, art, and other specialized subjects.
That said, you can use Tumblr to blog about anything you want. Here are some reasons you might want to consider trying Tumblr, no matter what you want your blog to be like:
Tumblr is easy
Tumblr lets you publish good-looking posts quickly and easily. Simply select the type of post you want to create, and Tumblr will format it for you. You can also easily post to Tumblr from email or any mobile phone

Tumblr is customizable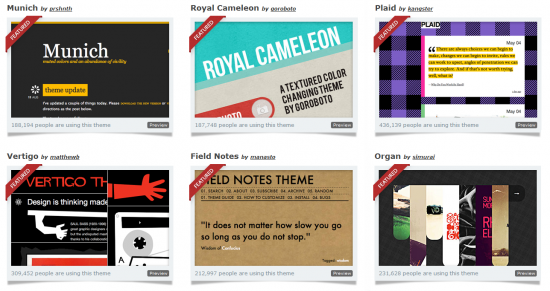 Tumblr is elegant
Many of Tumblr's themes are designed to showcase images and video in a simple, beautiful way. While these themes wouldn't be ideal for posting lots of text, they're perfect for highlighting a few meaningful images.
Tumblr lets you share
One reason why Tumblr hosts so many images that "go viral" and spread quickly across the web is its Reblog tool. Simply click Reblog on a Tumblr post you like, and the post will be published to your own Tumblr for your readers to see.

Using Tumblr is free—to get started, just go to Tumblr.com and click Sign Up. To learn more about starting your own blog on any site, visit our Blog Basics tutorial.