Lesson 5: Setting Up Your Email
/en/androidbasics/common-tasks/content/
Getting started with email
Email is probably one of the first things you'll want to set up on your device. All you have to do is sign into your account using the appropriate app—then you can start sending and receiving messages just like you would on a regular computer.
The big question is, which email app should you use? There are quite a few options to choose from. Most people use the "official" app for their email service, such as the Outlook app by Microsoft or the Gmail app by Google. Here are some tips to help you get started.
If you have a Gmail account
If you use Gmail, you're in luck. The Gmail app comes pre-installed on every Android device, so you don't have to download anything from the Play Store. In addition, there's a good chance your account is connected to the app already (as long as you used the same Google account to set up your device).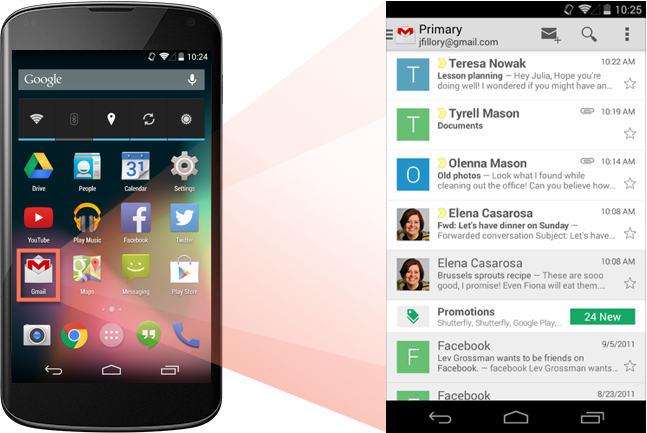 The Gmail app is designed to work a lot like your regular inbox. You can read and reply to messages and archive or delete the ones you don't want. You can even add multiple accounts to the app, so you can access them all in the same place (we'll show you how below).
If you use a different email service
Gmail isn't the only service with its own app. All of the primary services have one, including Outlook, Yahoo!, Mail.com, and AOL. All you have to do is download the app from the Play Store, then install it on your device. If you've never used the Play Store before, you can learn more about it in our lesson on Downloading Apps.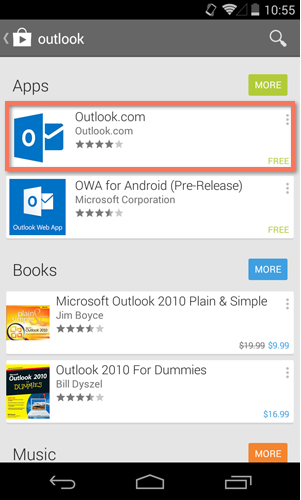 Alternatively, you can use the all-purpose Email app, which comes pre-installed on most devices. Each version of this app is different, but it's generally designed to be more universal. In other words, you can use it to set up any type of account, including Outlook, Yahoo!, and everything in between. You can even use it to set up your work email (if your job or business uses some type of corporate account).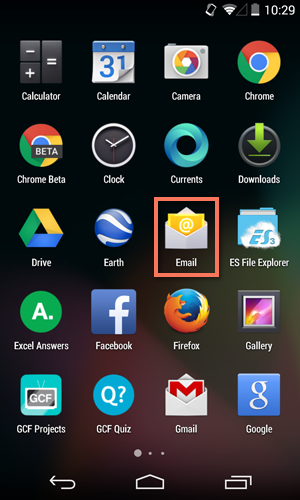 Adding multiple accounts
Almost every email app lets you add more than one account to your device. This option is great if you have multiple addresses—like separate ones for work and school—and you want to be able to access them in the same place.
The process for this can vary, but the general idea is the same. Start by going to your device's settings, then look for the option that says Add Account. Next, select the account type—for example, Google or Yahoo!—and follow the instructions.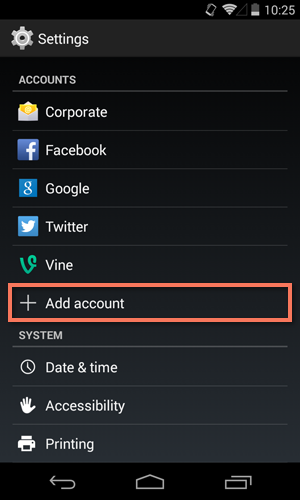 Continue
/en/androidbasics/managing-contacts/content/