Lesson 15: Designing Your Own Database
/en/access2010/formatting-forms/content/
Introduction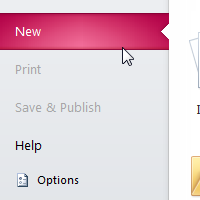 Now that you know how to use and modify existing databases, you might be interested in designing your own. Database design can be very complicated—so complicated, in fact, that people take extensive courses just to learn how to plan databases. For this reason, we haven't focused on creating a database from scratch in this tutorial. However, we can help you get started.
In this lesson, you will learn how to create a database from an existing template. You will also learn about other resources you can use to learn database design.
Creating a database from a template
Before deciding to build your own database, you may want to look at the templates included in Access to see if any of them match your needs. When you select a template, Access creates a new database based on that template. Once it's created, you can fill the database with your own information or modify it to suit your needs.
To create a database from a template:
Select the File tab. This will take you to Backstage view.

Clicking the File tab to go to Backstage View

On the sidebar, click New.

Creating a new database in Backstage View

Template options will appear. Under the Office.com Templates heading, you can see a list of templates grouped by type. Select the template type that best fits your needs.

Template groups

Access will display all of the available templates of that type. Select a template to see more information on it, including a visual preview, on the right.

Selecting and previewing a template

When you have found the template you want to use, click Download. The template will open automatically once it's finished downloading.

The Download command
More resources on database design
Unfortunately, it can be difficult to find free, high-quality resources on database design. On this page, you'll find links to online resources that can help you get started. You can also contact your local library for instructional books.
If you are willing to devote even more time and resources to learning about database design, you can also search for Access 2010 certification classes online and in your community. However, as a rule, these classes are not free.
Free online resources
Microsoft's Official Access 2010 Basics Training
This six-part series offers guidance on database design and creation. The course is self-paced and includes examples and practice tasks for each lesson. When you are finished with a lesson, click the Quick Reference Card link for a link to the next lesson.

Microsoft's Access 2010 Basics Training

About.com: Building an Access Database from the Ground Up
About.com's tutorial guides you through the process of creating a database for a small business. This tutorial refers to an earlier version of Access, but a majority of the instructions are still relevant for Access 2010.

About.com's Building an Access Database from the Ground Up
Continue
/en/access2010/tables-how-to-create-calculated-fields-and-totals-rows/content/