Lesson 5: Making Video Calls with Skype
/en/skype/making-calls-with-skype/content/
Before your first video call
This content refers to a previous version of Skype - go here for the current version.
Are you ready to talk face to face? On Skype, video calls are easy, whether you have a built-in webcam or one you've purchased separately.
To start, you need at least one contact. Go to our lesson on Adding Contacts if you need help finding or adding people you know. Next, you'll need to test your webcam to make sure the person on the other end will be able to see you. After that, you'll be ready to make video calls one on one or with an entire group. Before you begin, make sure:
You're connected to the Internet
Your volume is turned up
Your speakers and microphone are plugged in if they're not already built in to your computer
Your webcam is plugged in if it's not already built in and you've installed the software that came with it
You know your basic voice call settings are working; if you're not sure, you can always make a test call, which is covered in our lesson on Making Voice Calls with Skype
To test your webcam:
Select Tools, then choose Options.

Opening Skype options

The Skype - Options window will appear. Under General, click Video Settings.




Opening video settings

The pane will show the outcome of the test. You'll know it's working if you see live video of yourself. In the pane pictured below, you can adjust your privacy and webcam settings and even take a photo snapshot using your webcam.

When you're done, close the window by clicking Cancel, or click Save if you've made any changes to your settings.
If Skype can't find your webcam, follow the links pictured below, or go to this troubleshooting page.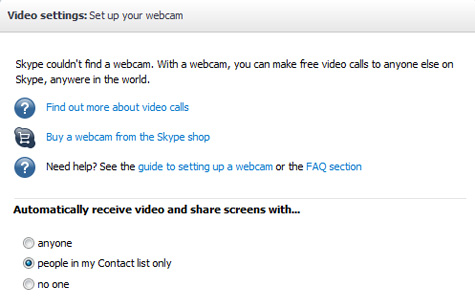 Making video calls
One-on-one and group video calls on Skype are free, which means you can chat using your webcam whenever you want.
To make a video call:
Click the person you want to video call on the Contacts tab.

Selecting a contact

The contact's information will open in a pane on the right. Click the Video call button.

Calling a contact

The call window will open. The footage from your webcam will appear at the bottom, showing what the other person will see when that person answers. The call will keep ringing until someone picks up.
The footage from that person's webcam will appear at the top. If the contact doesn't have a webcam—or chooses to answer without it—a profile picture will be there instead.
Talk as long as you want. Click the End Call button when you're ready to hang up.

Video call in action
You can also turn your webcam on or off during a call—even a regular Skype-to-Skype voice call. Just click the Video button inside the call window.

To turn your webcam on or off
Answering incoming video calls
So what do you see when someone calls you on Skype? A pop-up window that looks like this:

Incoming call pop-up window
To answer with your webcam, just click the Answer with video button or Decline if you're too busy to talk (or don't know the caller). You can also answer without video by clicking Answer so the caller can't see you on your webcam. You can always turn video on or off during the call if you change your mind. If you do nothing, the call will keep ringing until the other person hangs up.

Group video calling
Group video calling is an easy way to talk with several people at the same time. To learn more about making a group video call, check out this support page from Skype.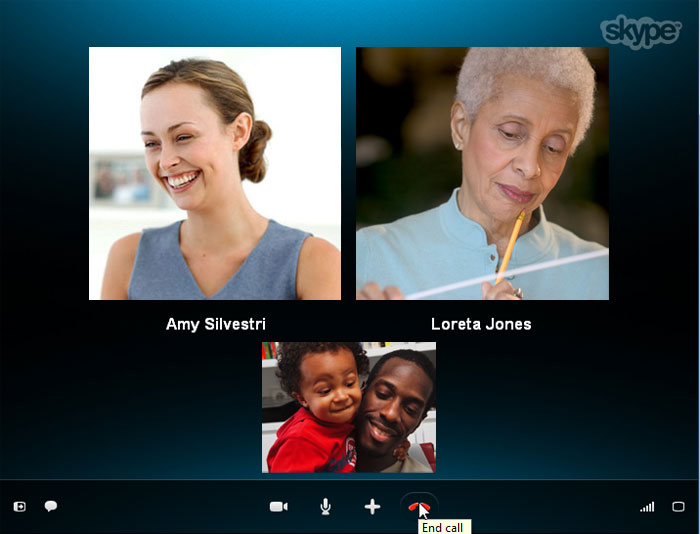 Continue
/en/skype/instant-messaging-with-skype/content/